Differences among
Similar Panasonic Models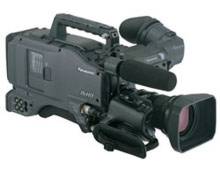 Product Code:AGHPX555AL
Discontinued

AG-HPX555 P2 HD shoulder-mount camcorder delivers a unique combination of high-end features never offered in a camcorder in this genre, including
- production-quality 2/3" progressive 3-CCDs
- DVCPRO HD quality
- multi HD and SD formats
- variable frame rates
- four independent audio channels


HPX555 features:
-high-performance digital signal processor (DSP) with 14-bit A/D conversion and 19-bit processing

-HD/SD format conversion simultaneously -- ensuring spectacular images in all video formats for applications ranging from news acquisition, independent filmmaking, corporate video, sports and much more.

-THPX500 records in over 32 HD and SD formats. The camcorder records on re-usable, removable P2 cards.

-With Panasonic's new 16GB P2 card and HPX500's four P2 slots, the camera records for 68 minutes of DVCPRO HD; 136 minutes of DVCPRO 50; and 272 minutes of DVCPRO.
Records in 1080/60i, 50i, 30p, 25p and 24p; in 720/60p, 50p, 30p, 25p, and 24p; and in DVCPRO50, DVCPRO and DV

Excellent low-light performance and a high sensitivity of F10

Equipped with eight gamma modes, including CineGamma, for different shooting situations

Like the AJ-HDC27 VariCam camera, variable frame rates in 11 steps between 12p and 60p allows undercranking/overcranking for fast- or slow-motion effects

Users have immediate access to P2 content with clip thumbnail view and advanced recording features including hot swapping, loop record, shot-marking, pre-record functions (three seconds in HD and seven seconds in SD), one-shot and interval.

Key interfaces include IEEE 1394, USB 2.0, HD SDI/SDI, genlock, built-in SMPTE time code, independent TC-IN/TC-OUT terminals, composite video, analog component and four audio XLR inputs

4-position Neural Density filter

Low power consumption of 22 watts (when 3.5" LCD monitor and 1.5" viewfinder are in use)

3.5" color LCD screen (with image flip function) located at rear of the camera

Chromatic Aberration Compensation function allows the camera to automatically compensate the registration error that is caused mainly by lens chromatic aberration and minimize the circumjacent blur.

Remote controllable with AJ-RC10G (via 10-pin RCU terminal)