---
7% Goods Service Tax (GST) will be imposed over the total invoice value if purchased locally in Singapore. However if you are a tourist visiting Singapore, this GST amount can be refunded at the Changi International Airport Departure Hall GST Refund Centre before departure with goods within 45 Days from the date of purchase. Please note that only Tourists who have met the Tourist Refund Scheme's conditions and eligibility criteria can claim for the GST refund. Please visit: https://www.iras.gov.sg/IRASHome/GST/Consumers/Tourist-Refund-Scheme/ for GST Guide for Visitors on Tourist Refund Scheme.
Panasonic AJ-PD500 Half-rack P2 HD recorder with native AVC-ULTRA recording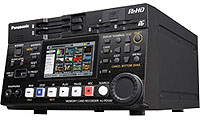 Product Code: AJPD500


The Panasonic AJ-PD500 is the first P2 HD recorder with native AVC-ULTRA recording, built-in microP2 card slots, and the ability to record in full-resolution, 10-bit 1080/60p (in AVC-Intra100). With Its range of format choices (including AVC-LongG and AVC-Proxy as standard, and AVC-Intra200 and AVCHD playback as options), variety of professional I/Os and multi-control JOG/SHTL/MENU dial operation, the PD500 is ideal for house of worship, production, post-production, long-form documentaries, live event systems, satellite facilities, reality television, news trucks, and as a redundant playback/record device in news facilities.

Panasonic's AVC-ULTRA offers master-quality and/or low-bit-rate 10-bit, 4:2:2 recording in full raster HD to meet a variety of user needs from mastering to transmission. Addressing the need for high-speed file exchange, its high-resolution AVC-Proxy encodes in parallel with higher bandwidth production formats, enabling fast, efficient offline editing, at bit-rates from 3.5 megabits down to 800 kilobits per second. The AVC-Proxy files and network function make it possible to configure a workflow for previewing images, editing metadata, and manipulating/sharing content over networks.

The PD500 offers a choice of AVC-LongG quality levels, including AVC-LongG50 and AVC-LongG25. Designed for applications where file size is critical, these 10-bit, 4:2:2 sampled codecs record in a much smaller file size, saving storage cost and transfer times over MPEG-2 while maintaining equal or better video quality. In the near future, lower bitrate AVC-LongG12* will be made available.

The PD500 offers optional AVC-Intra200** recording, which at twice the bit rate per frame of AVC-Intra100 is visually lossless, delivering a master quality codec in an affordable, file-based camera. The AVC-Intra200 option will yield a cost-effective approach to network-level program acquisition, film-outs and higher levels of color correction In addition to AVC-LongG and AVC-Intra100/50, the PD500 offers standard recording in DVCPRO HD, DVCPRO50, DVCPRO and DV.

The rugged, half-rack designed recorder has two microP2 slots and two standard P2 card slots, as well as an SD card slot for proxy/metadata recording. MicroP2 cards offer a faster transfer speed, smaller size (SD card size) and are lower cost compared to a P2 card.

The PD500's "SuperSpeed" USB 3.0 host interface permits super-fast transfer rates of up to 2Gbps. This allows users to easily transfer ontent to low-cost hard disk drives or solid-state drives for a fast and safe deliverable to clients. When attached to a computer, the USB evice mode allows the PD500 to become a two-card microP2 or P2 drive. In addition, users can connect a hard drive to the PD500, allowing the preview of non-real-time content. This functionality allows for the confirmation of content copied to a drive, and for the reviewing of previously-shot content on a drive.
• Native 1080/24PsF input/output.

• 3G-SDI for 1080/60 input/output.

• HD-SDI input allows recording of full resolution, 10-bit quality content from a wide range of Panasonic and non-Panasonic cameras as well s the ability to back up data onto external hard disk drives.

• HDMI output enables the transmission of uncompressed digital data to an array of consumer playback devices (video projectors, digital televisions).

• High-quality 24-bit audio recorded in AVC-Intra and AVC-LongG is supported.

• Plays HD/SD content automatically (no need to change settings) and is internationally operable in 50Hz or 60Hz.

• A Gbit Ethernet LAN terminal, FTP client function, and FTP/Samba server function for file transfers over a LAN or the internet. An HTTP erver function can also be accessed from a web browser to provide the following solutions: Proxy Preview, Metadata Editing and Playlist Editing.

• 12V battery DC or AC operation and light and easy to transport at 8 pounds.

• 3.5-inch, 16:9 LCD screen; manage clip files and metadata.

• RS-422A control, thereby allowing it to be controlled as a video source by nonlinear editing systems and color correction systems.

• Equipped with a headphone jack and speaker, timecode in/out and a reference sync input.

• Optional AJ-YCX500G encoder board provides playback of AVCHD content.

Power Source:
AC 100-240 V, 50 Hz/60 Hz, 45 W; DC 12 V, 3.6 A (included option)
Operating Temperature:
0 °C to 40 °C (32 °F to 104 °F)
Weight:
3.65 kg (8.05 lbs) (main unit only)
Dimensions:
210 mm (W) x 125.5 mm (H) x 253 mm (D)
(8-9/32 inches × 4-15/16 inches × 9-31/32 inches)
(not including the Handle, set foot, knob and terminal)
Recording Media:
P2 card, microP2 card
Proxy:
File Format: MP4 (ISO/IEC14496 standard),
MOV (QuickTime format)
Video Compression Formats:
MPEG4 Simple Profile,
H.264/AVC Baseline Profile,
H.264/AVC High Profile
Audio: AAC-LC, Linear PCM
Video Recording Signals:
1080/59.94p, 1080/50p, 1080/59.94i, 1080/50i,1080/29.97p1, 1080/25p1, 1080/24p1, 1080/23.98p1,720/59.94p1, 720/50p1, 480/59.94i, 576/50i
Audio Recording Signals:
AVC-Intra200 (option)1 48 kHz 24 bit 16 CH
AVC-Intra100/AVC-Intra50: 48 kHz 24 bit 8 CH
48 kHz 16 bit 8 CH
AVC-LongG50/AVC-LongG25 : 48 kHz 24 bit 8 CH
AVC-LongG121: 48 kHz 24 bit 4 CH
AVC-LongG61 : 48 kHz 16 bit 2 CH
DVCPRO HD: 48 kHz 16 bit 8 CH
DVCPRO 50/DVCPRO: 48 kHz 16 bit 4 CH
Sampling Frequency:
AVC-Intra200 (option)1/AVC-Intra100/AVC-LongG50/
AVC-LongG25/DVCPRO HD:
(59.94 Hz) Y: 74.1758 MHz, PB/PR: 37.0879 MHz
(50 Hz) Y: 74.2500 MHz, PB/PR: 37.1250 MHz
AVC-Intra100/AVC-LongG25
(1080/59p) Y: 148.3516 MHz, PB/PR: 74.1758 MHz
(1080/50p) Y: 148.5000 MHz, PB/PR: 74.2500 MHz
DVCPRO50: Y: 13.5 MHz, PB/PR: 6.75 MHz
DVCPRO: Y: 13.5 MHz, PB/PR: 3.375 MHz
Video Compression Methods:
AVC-Intra200 (option)1/AVC-Intra100/AVC-Intra50:
MPEG-4 AVC/H.264 Intra Profile
AVC-LongG50/AVC-LongG25/AVC-LongG121/
AVC-LongG61: MPEG-4 AVC/H.264 High Profile
DVCPRO HD: DV-Based Compression (SMPTE ST 370)
DVCPRO50/DVCPRO: DV-Based Compression (SMPTE ST 314)
DV: DV Compression (IEC 61834-2)
Color Sampling:
AVC-Intra200 (option)1/AVC-Intra100/AVC-LongG50/
AVC-LongG25: Y: PB: PR = 4: 2: 2
Resolution:
AVC-Intra200 (option)1/AVC-Intra100/AVC-LongG50/
AVC-LongG25/AVC-LongG121/AVC-LongG61:
1920 x 1080 (1080/59.94i, 1080/50i),
1280 x 720 (720/59.94p, 720/50p)1
AVC-Intra100/AVC-LongG25:
1920 x 1080 (1080/59.94p, 1080/50p)
AVC-Intra50: 1440 x 1080 (1080/59.94i, 1080/50i)
960 x 720 (720/59.94p, 720/50p)*
Digital Audio Sampling Frequency:
48kHz (synchronized with video)
Headroom:
12 dB/18 dB/20 dB (selectable)
De-emphasis:
T1=50 µs, T2=15 µs (auto on/off)
Video Input:
Reference Input:
BNC x 1, Auto switching of black burst/HD 3-value sync
SDI Input:
BNC x 1
Video Output:
Monitor Output:
BNC x 1, SD analog composite
Reference through Output:
BNC x 1
SDI Output:
BNC x 2 (HD/SD switchable)
SDI Monitor Output:
BNC x 1 (HD/SD switchable)
HDMI Output (Video):
HDMI x 1 (HDMI TypeA terminal), VIERA Link not supported
Audio Input:
Analog Input:
XLR x 2 (CH1, CH2)
Digital Input:
BNC x 2 (CH1/2, CH3/4), AES/EBU Format
SDI Input (Audio):
BNC x 1
Audio Output:
SDI Output (Audio):
BNC x 3
Analog Output:
XLR x 2 (CH1, CH2), Monitor Output (L/R) switchable
Digital Output:
BNC x 2 (CH1/2, CH3/4), AES/EBU Format
Headphone Output:
φ3.5 mm Stereo Mini Jack x 1, 8 Ω, variable level
HDMI Output:
2 channels (linear PCM)
Internal Speaker:
Round × 1 (monaural)
Other Input and Output:
Time Code Input:
BNC x 1, 0.5 V [p-p] to 8.0 V [p-p], 10 k Ω
Time Code Output:
BNC x 1, low impedance, 2.0 V ±0.5 V [p-p]
REMOTE:
D-SUB 9 pin x 1, RS-422A Interface
PARALLEL REMOTE:
D-SUB 15 pin x 1
LAN:
RJ-45 x 1, 1000BASE-T/100BASE-TX/10BASE-T
USB Host:
USB3.0 HOST (TYPE A) x 1
USB Device:
USB2.0 DEVICE (TYPE B) x 1
Keyboard:
USB2.0 (TYPE A) x 1 (maximum 100 mA)
Standard accessories:
AC cable, CD-ROM (Manuals)