---
7% Goods Service Tax (GST) will be imposed over the total invoice value if purchased locally in Singapore. However if you are a tourist visiting Singapore, this GST amount can be refunded at the Changi International Airport Departure Hall GST Refund Centre before departure with goods within 45 Days from the date of purchase. Please note that only Tourists who have met the Tourist Refund Scheme's conditions and eligibility criteria can claim for the GST refund. Please visit: https://www.iras.gov.sg/IRASHome/GST/Consumers/Tourist-Refund-Scheme/ for GST Guide for Visitors on Tourist Refund Scheme.
Panasonic AG-HPD24 Solid-state P2 portable recorder with AVC-Intra recording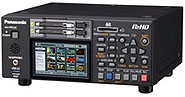 Product Code: AGHPD24


The Panasonic AG-HPD24 is a portable P2 solid-state AVC-Intra recorder featuring native 1080/24p recording with variable frame rates; a super-fast USB 3.0 interface; and 24-bit, four-channel audio recording* in AVC-Intra 100/50. With two P2 card slots and battery operation, the HPD24's rugged, half-rack design holds up to the demands of field production, yet it is small and light at 4.41 pounds** for easy transport.

This ultra-reliable, dedicated deck allows users to playback and review P2 cards on its 3.5-inch, 16:9 LCD screen; manage clip files and metadata; record full resolution, 10-bit 4:2:2 master-quality video content from a wide range of Panasonic and non-Panasonic cameras via its HD-SDI input; and can also backup data onto hard disk drives.

The Panasonic AG-HPD24 is ultra versatile, supporting a wide range of high definition and standard definition recording formats including 1080 60i/50i/25p/24p, 720 60p/50p/24p and 480/60i, 576/50i in DVCPRO50, DVCPRO and DV. The unit plays back HD/SD content automatically (no need to change settings) and is internationally operable in 50Hz or 60Hz. For 3D production, its 3D sync function offers master-quality, full resolution 3D recording and playback with a high-quality AVC-Intra codec when two units, one for the Left channel and one for the Right channel, are connected

A key feature of the HPD24 is its "SuperSpeed" USB 3.0 host interface that allows super-fast transfer rates of up to 1.6Gbps. Transferring data to low-cost hard disk drives or solid-state drives is achieved quickly and easily with its SuperSpeed USB 3.0. Its HDMI output enables the HPD24 to transmit uncompressed digital data to an array of consumer playback devices, including projectors and digital televisions.
In addition, when attached to a computer, the USB device mode allows the HPD24 to become a two-card P2 drive. Using two 64GB P2 cards in the HPD24's two card slots, the unit can record for about 128 minutes in AVC-Intra 100 or DVCPRO HD, approximately 256 minutes in AVC-Intra 50 or DVCPRO50, or about 512 minutes in DVCPRO/DV.
• Capable of 1080/23.98p native recording and supports 1080/24PsF input/output
• Supports variable frame rate recordings of VariCam® camcorders
• Supports up-/down-conversion between HD and SD as well as cross conversion between 720 and 1080 during playback
• Equipped with a RS-422A remote terminal (9-pin) to serve as an externally controllable 2D/3D player
• Playback function*** previews P2 files from an external storage device
• USB 2.0 (DEVICE): Uploads files to a PC or nonlinear editor
• USB 3.0 (HOST): Transfers files to an external storage (USB 3.0 compatible) at about four times AVC-Intra 100 normal speed****
• HDMI (3D-compatible) output, HD/SD SDI input/output, video monitor output, audio monitor output, headphone output, REF input, TC input/output and XLR analog audio input
• Advanced recording functions include continuous recording, hot-swap REC, loop REC and VANC recording
• Standard 3.45 inch LCD monitor allows users to view playback and check thumbnails of video clips in addition to display Waveform or Vectorscope readings
•Six user buttons for pre-setting of the deck's key functions (up to 31 functions to select from)
• A USB keyboard (USB 2.0)***** can also be connected
• Built-in front speaker for audio monitoring
• Battery operation boosts convenience (with a 5400 mAh battery pack)
• AC power can be supplied via the AC adaptor (included)
• 5-year limited warranty upon required registration with the Panasonic Asset Support System (PASS)

General
Power Source:
7.2 V DC / 7.9 V DC
Power Consumption:
19.8 W
Operating Temperature:
0 °C to 40 °C (32 °F to 104 °F)
Operating Humidity:
10 % to 80 % (no condensation)
Storage Temperature:
-20 °C to 50 °C (-4 °F to 122 °F)
Weight:
2 kg (4.41 lb) (without battery) 2.3 kg (5.07 lb) (with supplied battery)
Dimensions:
214 mm (W) x 88 mm (H) x 200 mm (D) (8-7/16 inches × 3-7/16 inches ×7-7/8 inches) (not including the support legs)
Recording Media:
P2 card
Recording Formats*1:
AVC-Intra 100/AVC-Intra 50/DVCPRO HD/DVCPRO50/DVCPRO/DV (selectable)
Recording/Playback Time:
*See page 2 for Corresponding Input/Recording Formats
Video Recording Signals:
1080/59.94i, 1080/50i, 1080/23.98p, 1080/24p, 720/59.94p, 720/50p, 480/59.94i, 576/50i
Audio Recording Signals:
AVC-Intra 100/50: 48 kHz, 16 bits, 8 channels/24 bits, 4 channels (selectable)
DVCPRO HD: 48 kHz, 16 bits, 8 channels
DVCPRO50: 48 kHz, 16 bits, 4 channels
DVCPRO/DV: 48 kHz, 16 bits, 2/4 channels selectable
VIDEO (DIGITAL VIDEO):
Sampling Frequencies:
AVC-Intra 100/DVCPRO HD (59.94 Hz):Y: 74.1758 MHz, PB/PR: 37.0879 MHz
AVC-Intra 100/DVCPRO HD (50 Hz):Y: 74.2500 MHz, PB/PR: 37.1250 MHz
DVCPRO50: Y: 13.5 MHz, PB/PR: 6.75 MHz
DVCPRO: Y: 13.5 MHz, PB/PR: 3.375 MHz
Video Compression Methods:
AVC-Intra 100/50: MPEG-4 AVC/H.264 Intra Profile
DVCPRO HD: DV-based Compression (SMPTE 370M)
DVCPRO50/DVCPRO: DV-based Compression (SMPTE 314M)
DV: DV Compression (IEC61834-2)
Color Sampling:
AVC-Intra 100: Y: PB:PR = 4:2:2
Resolution:
AVC-Intra 100: 1920 × 1080 (1080/59.94i, 1080/50i) 1280 × 720 (720/59.94p, 720/50p)
AVC-Intra 50: 1440 × 1080 (1080/59.94i, 1080/50i) 960 × 720 (720/59.94p, 720/50p)
Video Quantization:
AVC-Intra 100/AVC-Intra 50: 10 bits
DVCPRO HD/DVCPRO50/DVCPRO/DV: 8 bits
AUDIO (DIGITAL AUDIO):
Sampling Frequency:
48 kHz (synchronized with video)
Audio Quantization:
16 bits (DVCPRO HD/DVCPRO50/DVCPRO/DV)
16/24 bits selectable (AVC-Intra 100/AVC-Intra 50)
Headroom:
12/18/20 dB (selectable)
De-emphasis:
T1=50 µs, T2=15 µs (auto on/off)
Video Input:
Reference Input:
BNC × 1, Auto switching of black burst / HD tri-level sync
SDI Input:
BNC × 1
Video Output:
BNC × 1, SD Analog Composite
SDl Output:
BNC × 1, HD SDI/SD SDI switchable
HDMI Output:
HDMI × 1 (HDMI type A), 3D supported (VIERA link not supported)
-When 59.94 Hz of system frequency1080/59.94i Frame Packing / Side-by-Side selectable (3D only),720/59.94p Frame Packing / Side-by-Side selectable (3D only),1080/59.94i, 720/59.94p, 480/59.94p
-When 50 Hz of system frequency1080/50i Frame Packing / Side-by-Side selectable (3D only),720/50p Frame Packing / Side-by-Side selectable (3D only),1080/50i, 720/50p, 576/50p
-When 23.98 Hz of system frequency1080/23.98p Frame Packing / Side-by-Side selectable (3D only),1080/23.98p
-When 24 Hz of system frequency1080/24p Frame Packing / Side-by-Side selectable (3D only),1080/24p
Audio Input:
Analog Inputs: XLR × 2 (CH1, CH2)SDI Input: BNC × 1
Audio Output:
SDI Output: BNC × 1Monitor Outputs: Pin jacks × 2, -10 dBV, 600 O
Headphone Output: Stereo mini jack (3.5 mm dia.), 8 O, variable level
HDMI Output: 2 channels (linear PCM)Internal Speaker: Round × 1 (monaur
Other Input/Output:
Time Code Input: BNC × 1, 0.5 V[p-p] to 8.0 V[p-p], 10 kO
Time Code Output: BNC × 1, low impedance, 2.0 V ±0.5 V[p-p]RS-422A
Input/Output: 9-pin D-SUB × 1, RS-422A interface
USB 3.0: Host (Type A) × 1USB 2.0: USB 2.0 Devices (Type B) × 1
For connection of 3D REC/PB or SYNC PB modes:
9-pin D-SUB × 1, RS-422A interfaceUSB 2.0 Devices (Type A) × 1
Keyboard:
USB 2.0 (Type A) × 1 (maximum 100 mA)
P2 Card Slot:
P2 Card Slot × 2
SD Card Slot *2:
SD/SDHC Memory Card Slot × 1
LCD Monitor:
87.63 mm (3.45 inches), approx. 921,000 pixels
Included Accessories:
Battery (5400 mAh), Battery charger, AC adaptor, 3D connection label and Software CD-ROM