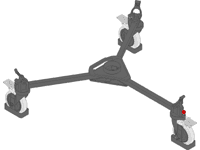 Tripods, Spreaders & Dollies
Picture quality relies as much upon the rigidity and stability of the camera support as it does on the smoothness of the pan and tilt head. All Vinten tripod systems have been designed to optimise rigidity without compromising operational essentials such as weight, reliability, maintenance and speed of set-up.
Clearances in tripod design allow an element of movement necessary for quick setup and effective clamping. When the clamps are locked this clearance is minimised eliminating the distraction of uncontrollable "free" movement, particularly noticeable when framing long, tight shots in windy conditions.
Drag forces a tripod to twist, forcing the camera to "spring back" at the end of a move, making precise shot framing and minor adjustments extremely difficult. The torsional rigidity of the tripod is the only thing that will minimise spring back and is therefore a feature taken very seriously by Vinten.
The choice of spreader will always influence stability but is ultimately determined by the conditions you work in. A ground spreader is by far the most stable device. However, it is ideally suited to flat, hard surfaces. A mid-level spreader is better for rough terrain or confined spaces as the feet are free to fit the conditions, but it can be at the cost of picture stability.
Vinten understand the issues surrounding shot stability and optimise the design of each element within the tripod system to ensure you get the very best performance possible, in any condition you find yourself working.