---
7% Goods Service Tax (GST) will be imposed over the total invoice value if purchased locally in Singapore. However if you are a tourist visiting Singapore, this GST amount can be refunded at the Changi International Airport Departure Hall GST Refund Centre before departure with goods within 60 Days from the date of purchase. Please note that only Tourists who have met the Tourist Refund Scheme's conditions and eligibility criteria can claim for the GST refund. Please visit: https://www.iras.gov.sg/IRASHome/GST/Consumers/Tourist-Refund-Scheme/ for GST Guide for Visitors on Tourist Refund Scheme.
Miller 2060 Skyline 70 Heavy Duty 2 Stage Carbon Fibre Tripod System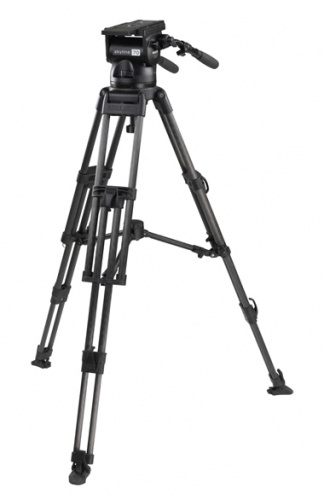 Product Code: 2060Skyline70

Robust support for Sport, Studio, EFP and OB productions
Skyline 70 Heavy Duty 2 Stage Carbon Fibre tripod system consists of Miller's innovative 150mm fluid head and robust HD tripod, features include advanced precision drag with soft take offs, smooth stops and well balanced diagonal drag transition and 8 position counterbalance systems controlled through a rear mounted illuminated 'all in one location' operating layout.

Together with the strength and torsional rigidity of the lightweight carbon fibre HD tripod the Skyline 70 system is quicker and easier to set up and capture the action than ever before making it a most desirable package for professional Sports, Studio, EFP and Outside Broadcast production crews.
Features:
• 7 (Plus zero) positions of selectable fluid Pan / Tilt drag
• 8 positions of selectable counterbalance
• Rear mounted "all in one location" control panel
• Quick Release, 120mm sliding camera platform with large Euro camera plate
• Illuminated bubble level and control panel
• Positive caliper disc brake system and safety tilt lock
• 150 mm/5.9" Ball leveling
• Water and dust resistant lightweight alloy construction
• Dual Telescopic Pan Handles
• Dual side mounts for viewfinders and accessories
• Heavy Duty 2- Stage Carbon fibre tripod with quick action leg locks
• Multi adjustable Mid Level Spreader
---
Specifications:
Material:
Carbon Fibre
Construction:
2-Stage

Maximum Height:
1805 mm (71.1 in)
Minimum Height:
710 mm (28 in)

Mounting Standard:
150mm Ball Levelling
Payload Capacity:
37.50 kg (82.7 lbs)

Payload Range:
4.5-37.5 kg
Transport Length:
940 mm (37 in)

Weight:
11.60 kg (25.6 lbs)
---
Components: