Sony SBP-128C SxS PRO+ C Series 128GB Memory Card
7% Goods Service Tax (GST) will be imposed over the total invoice value if purchased locally in Singapore. However if you are a tourist visiting Singapore, this GST amount can be refunded at the Changi International Airport Departure Hall GST Refund Centre before departure with goods within 45 Days from the date of purchase. Please note that only Tourists who have met the Tourist Refund Scheme's conditions and eligibility criteria can claim for the GST refund. Please visit: https://www.iras.gov.sg/IRASHome/GST/Consumers/Tourist-Refund-Scheme/ for GST Guide for Visitors on Tourist Refund Scheme.
---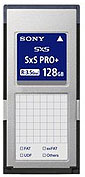 Unique media technology enabling efficient higher speed data writing, dependable recording of 4K video while avoiding speed degradation.
• 2nd Gen PCIe Interface & New Controller
• 2X the transfer speeds of B Series Cards
• 50% more optimized for HFR 4K Content
• Max. Read Speed: 3.5Gbps
• Max. Write Speed: 2.8Gbps
• Min. Write Speed: 1.3Gbps
• Data refreshing, Data Error Correct
• Supports EB Streaming between card and Sony camcorders enabling constant 2 way communication and insuring stable recording while avoiding speed degradation.
• Clip Recreation in case of power loss
• Wear-Leveling Data Defect Minimization
• Enhanced media management with Memory Media Utility
• 10 year warranty