Sony PFD-100TLA Triple Layer 100GB Rewritable Optical Disc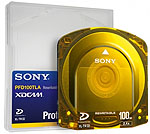 The Triple Layer Professional Disc media offers high capacity and high speed. The disc is rewritable and provides quick random access making it a great near-line storage or long-term archive solution.

Features:
• Pre-Formatted
• Large Capacity and high-speed rewritable Professional disc.
• Recording time for SD content is approximately 370 min. in DVCAM mode at 25Mbps, and 190 min. for HD content in MPEG mode at 50Mbps.
• Quick random access for near-line storage.
• Data file recording up to 100 GB.
• Built tough for high performance and reliability in extreme environmental and temperature conditions.
• Amazing estimated shelf life of 50 years in accelerated testing.
Format

Storage Capacity (GB)

100.0

Recording Type

REWRITABLE

Physical Characteristics

Track pitch (µm)

0.32

Min. Mark Length (μm)

0,149

Laser wavelenght-blue violet (nm)

405.0

Writing Transfer Speed (Mbps)

86

Transfer Speed (x)

2.4

Environmental Requirements

Operating Conditions (degrees C)

-5~55

Operating Conditions (% RH)

10~90

Storage Conditions (degrees C)

-10~55

Storage Conditions (% RH)

5~90

Dimensions (nominal)

Disc Diameter (mm)

120.0

Cartrige Width (mm)

128.6

Cartrige Height (mm)

130.6

Cartrige Depth (mm)

9.1

Cartrige Width (inch)

5.125

Cartrige Height (inch)

5.25

Cartrige Depth (inch)

0.375

Weight with case (g)

189,2