7% Goods Service Tax (GST) will be imposed over the total invoice value if purchased locally in Singapore. However if you are a tourist visiting Singapore, this GST amount can be refunded at the Changi International Airport Departure Hall GST Refund Centre before departure with goods within 45 Days from the date of purchase. Please note that only Tourists who have met the Tourist Refund Scheme's conditions and eligibility criteria can claim for the GST refund. Please visit: https://www.iras.gov.sg/IRASHome/GST/Consumers/Tourist-Refund-Scheme/ for GST Guide for Visitors on Tourist Refund Scheme.
---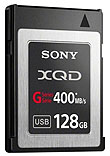 High-speed memory card
XQD G Series Memory Card is the best performing XQD card for 4K users. Its outstanding reading speed of 400MB/s and writing speed of 350MB/s* enhances the capabilities of high-speed burst shooting with DSLR cameras. A Sony unique Speed-Degradation Avoiding Function enables stable recording with 4K video cameras.

* Based on Sony internal testing. Transfer speed may vary and depend on host device

Tough and durable media
XQD G Series Memory Card has been designed for professional use, with rigorous testing procedures to resist extreme environments. This memory card is tough enough to withstand the harshest filming conditions. Its intelligent controller also gives you peace of mind with reliable data recording.
• Fast recording media for professional use
Sony XQD G Series has a reading speed of 400MB/s and a writing speed of 350MB/s*.

* Based on Sony internal testing. Transfer speed may vary and depend on host device

• High capacity storage
The XQD G Series is available in 32GB, 64GB and 128GB.

• Increasing performance
Sony XQD G Series dramatically enhances the capabilities of high-speed burst shooting with DSLR cameras. A Sony unique Speed-Degradation Avoiding Function enables stable recording with 4K video cameras.

• Safe and reliable media
The XQD cards are tough enough for extreme conditions and on-location filming. They also feature Sony's intelligent controllers possessing wear levelling, error correction code and data refresh functions.

• A dedicated USB3.0 adapter is included.

• Compatible with PXW-Z100, PXW-FS7, FDR-AX1 + Nikon D4 (RAW/video)

Compatible Nikon DSLR: D850, D500, D5, D4s, D4, Z7, Z6