Sony PFD-50DLA Dual Layer 50GB Rewritable Optical Disc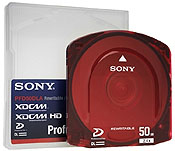 Sony's Professional Disc recording media is a 5 inch (12cm) rewritable optical disc capable of recording in single, sided (23GB) or two layers (50GB). By achieving a track pitch of 0.32ìm, with state-of-the-art manufacturing technology and by utilizing blue-laser technology, the disc media can attain high density recording more than 5 times (23GB) or 10 times (50GB) than that of a DVD (4.7GB) using red-laser technology.

Features:
• Pre-Formatted
• "Flexible Platform
• Large-Capacity Optical Disc
• The dual layer media will record approximately 185 min. (85 min. in the single layer disc) of SD content in DVCAM mode at 25 Mbps and 265 min. (122 min. in the single layer disc) of HD content in MPEG mode at 18 Mbps.
• Quick Random Direct Access
• Hightly Reliable and durable for high performance under tough environmental conditions and extreme temperature. Durable and Re-usable Media
• Outstanding Picture Quality of MPEG IMX/DVCAM Format Recording
• Flexible Metadata Recording
• Amazing estimated shelf life of 50 years in accelerated testing."
Format

Storage Capacity (GB)

50.0

Recording Type

REWRITABLE

Physical Characteristics

Track pitch (µm)

0.32

Min. Mark Length (μm)

0,149

Laser wavelenght-blue violet (nm)

405.0

Writing Transfer Speed (Mbps)

86

Transfer Speed (x)

2.4

Environmental Requirements

Operating Conditions (degrees C)

-5~55

Operating Conditions (% RH)

10~90

Storage Conditions (degrees C)

-10~55

Storage Conditions (% RH)

5~90

Dimensions (nominal)

Disc Diameter (mm)

120.0

Cartrige Width (mm)

128.6

Cartrige Height (mm)

130.6

Cartrige Depth (mm)

9.1

Cartrige Width (inch)

5.125

Cartrige Height (inch)

5.25

Cartrige Depth (inch)

0.375

Weight with case (g)

189,2