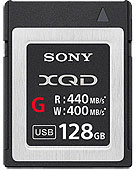 Sony 128GB XQD G Series Memory Card
Product Code: QD-G128E
Discontinued
Replaced by 120GB XQD Card

Features
• Ideal for continuous raw burst shooting with hi-end DSLRs
• Designed to keep pace with the shooting speed of your camera to clear the memory buffer fast
• Dependable 4K Video Recording
• Shockproof, magnet proof, anti-static, and resistant to breakage
• Comes with File Rescue Software
Continuous high-speed shooting with digital single-lens camera, high capacity XQD memory cards are suitable for 4K video at 4K memory camcorder / 4K Handycam.

Get the Most out of Burst Shooting
With their extremely fast write speeds, Sony XQD G Series Memory Cards are ideal for continuous raw burst shooting with hi-end DSLRs, letting you capture up to 200 RAW images which is 1.5-times more shots per burst than with Compact Flash cards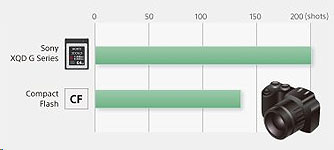 Fast Data Transfer to PC
Sony's XQD/SD card reader and USB adapters are the best match for XQD G Series cards and dramatically reduce data backup time for a more efficient work flow. Transfers are twice as fast as CompactFlash card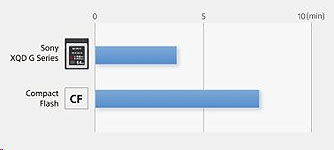 Capture More Decisive Moments
Sony XQD G series memory cards are designed to keep pace with the shooting speed of your camera to clear the memory buffer fast. You can capture more decisive moments and bursts of continuous shooting even with hi-end DSLRs

Extremely Robust Shell Structure
Sony's unique technologies increase shell strength to improve durability, while recessed contact pins protect them from damage, dust and electrostatic shock for reliable performance even in harsh environments.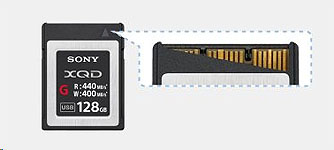 Designed for professionals
Sony's XQD memory cards are Shockproof, magnet proof, anti-static, and resistant to breakage, and offer full performance even in extreme temperatures, under exposure to intense UV light and airport X-rays machines. Designed for prolonged professional use, Sony XQD cards are tested for dependable storage, wherever you need to shoot.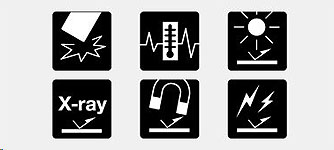 Dependable 4K Video Recording
Sony's unique controller ensures stable 4K video recording thanks to two-way communication to manage data bottlenecks with compatible cameras. A 128 GB card offers approximately 100 minutes of 4K XAVC-S (150 Mbps) recording using cameras like Sony's 4K FDR-AX1.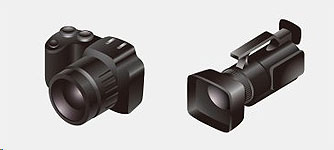 File Rescue Software
Sony's File Rescue is a powerful tool for recovering damaged or lost data that is simple enough for anyone to use. Applying an advanced algorithm, Sony's File Rescue realizes a higher rate of recovery for RAW image, MOV files, and 4K XAVC-S video files captured on both Sony and Nikon devices.

| | |
| --- | --- |
| Model | QD-G128E |
| Dimensions (WXHXD) | 1.17 x 1.52 x 0.15 in |
| Weight | approx. 0.35 oz |
| Interface | ExpressCard/34 PCI Express Gen.2, USB3.1 Gen.1(Super Speed USB) |
| Transfer Speed (Read) | 440 MB/s |
| Tansfer Speed (Write) | 440 MB/s |
| Operating Temperature Range | -13°F-149°F |
| Compatible Nikon DSLR | D850, D500, D5, D4s, D4, Z7, Z6 |