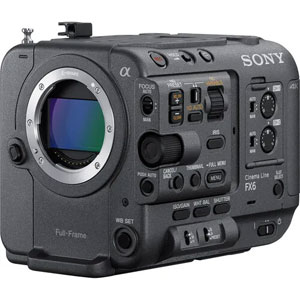 Everything you need to know about Sony FX6 Camera
When it is about shooting videos, is it for professional or personal creative purposes one thing that everyone looks for is clarity of the video, clear shots, and well-balanced light as well. Nobody enjoys watching a video that is not clear and devoid of natural-looking shots. Authenticity is a special feature one should have in their video. And this you will be getting only when you plan to invest in cameras which are of amazing quality.

Sony is one company standing strong in the industry for years, serving innumerable people all over the world with their electronic products, especially cameras and accessories. Hence undoubtedly, it is your golden option if you are looking for one company that will give you the best features.

The Sony FX6 camera is their new launched in the Cinema line range. This camera is a masterpiece for people who are looking forward to getting something that will level up their game in professional videography or film shooting as well.

Let's see the features at a glance.
- 4k 10.2 MP frame
- UHD till 120p
- 4k DCI till 60p
- Base ISO 800
- Extreme sensitivity control of 12,800 ISO
- HD till 180 fps
- Four channels provided for recording of audio
- 12G/6G/3G SDI facilities.
- Face detection along with Eye-AF.
- S-Cinetone.
- External RAW recording along with Atomos Shogun 7

The Sony FX6 is an innovative launch, especially for people who are working alone behind a shoot. This camera is a lightweight, comprehensive mobile operated camera that is perfect for solo video shooting purposes. This is a perfect amalgamation of Cinema and alpha cameras.

The Sony FX6 utilizes a full frame of around 12.9 megapixels, 10.2 megapixels, which has a back-illuminated CMOS Exmor R4K sensor. The a7S III and the Sony FX6 uses similar sensor technology.

The processor used by the Sony FX6 is a BIONX XR image processor, and this processor is expected to read the activity of the sensor literally three times faster than a7S III and, in general, two times faster than the generic mirrorless hybrid sensors available.

The Sony FX6 possesses an ISO 12800 extreme sensitivity mode for delicate low light scenes, which is an amazing factor and makes the camera quite appropriate for low light shooting. The camera posses multiple things within it, which makes it the best for solo operators; as mentioned earlier, the body weight is less than 2 lb, which makes it even more comprehensive.

The camera has fast and precise phase-detection autofocus, amazing accuracy in face detection as well as eye autofocus. Other than that, you will be getting auto as well as manual ND filter settings. The settings give you better control over the exposure compensation.

It also comes with a 3.5″ LCD monitor where you get to operate the settings through the touch screen mode and can position it in any convenient way for having better and operation.

The Sony FX6 is the only compact camera which is offering UHD 4K 4:2:2 capture facilities with amazing XAVC-I codec. You get a variety in terms of choosing XAVC Intra and as well as XAVC Long codecs ranging from 35 to 600 Mb/s.

The Sony FX6 also has a remote monitoring feature when it is paired with a content browser mobile application in a smartphone or remote control. The Wi-Fi in Sony FX6 supports remote focus, iris as well as zooming facilities.

With all these beautiful features, the Sony FX6 is all in one when it comes to a professional video shooting camera. Its modular structure provides the user a lot of flexibility coz you can use it with a drone or on its own with external accessories as well.

Ready to tell amazing stories
Sony PXW-FX6 (ILME-FX6V) Inside a compact body that's ready for grab-and-shoot action, the FX6 packs a highly sensitive, full-frame image sensor with the power to expand your movie making creativity.

Capture the impossible with expanded ISO sensitivity
Capture usable images in near total darkness with an impressive ISO expanded range up to 409600. The full-frame sensor coupled with innovative light gathering ensures limitless shooting possibilities.

Stunning bokeh and full-frame creativity
Sony PXW-FX6 Realise beautiful 4K imagery with the creative freedom made possible by a full-frame sensor. Capture every detail from the scene with shallow depth of field and stunning bokeh for a truly cinematic look.

Cinematic colour science with S-Cinetone™
S-Cinetone colour, developed for Sony's acclaimed ILME-FX6V, is the default look on the Sony PXW-FX6. Precisely tuned to meet the requirements of today's content creators with rich colour and natural skin tones, it produces fresh and vivid images straight out of camera without grading, while retaining plenty of latitude for post production.

Large pixels deliver high sensitivity and low noise
The full-frame, back-illuminated, 10.2-megapixel2 Exmor R™ CMOS image sensor offers impressive light-gathering capability. Fast readout speeds and a dynamic range of 15+ stops3 deliver superb image quality with wide sensitivity and reduced noise.

Powerful BIONZ XRTM image processor
The BIONZ XR image processing engine matches the sensor's high-speed readout with enormous processing power. Built with a future-oriented architecture, it delivers high quality images faster and dramatically improves camera interface responsiveness.

Impressive dynamic range for limitless expression
At its base sensitivity of ISO8004, the Sony PXW-FX6 offers optimal dynamic range for well-lit interiors and outdoor documentary shooting. An enhanced ISO 128004 sensitivity is designed for challenging low-light, morning and evening shots.

The Sony PXW-FX6 offers an exceptional 15+ stops3 of dynamic range ‒ beyond the perception of even the human eye in many conditions ‒ allowing for unprecedented creative freedom in colour grading and post.

Fast Hybrid AF for accuracy and tenacity
The wide-area AF uses intelligent tracking and on-sensor phase-detection for tenacious subject tracking across almost the entire frame (6275-point focal plane phase-detection AF covers approx. 89% of the image area). The hybrid AF system delivers precise focusing even when shooting at shallow depths of field and at 120p high frame rates in 4K (QFHD)6.

Professional connectivity
A wide range of professional interfaces is available including 12G-SDI and HDMI outputs11, a remote interface, TC connectors for multi-camera sync, and SuperSpeed USB 5Gbps (USB 3.2) to support fluid data workflows.

- Image sensor with blazing fast readout speed
- High performance image-processing engine
- High sensitivity, wide dynamic range
- Acclaimed cinematic colour with S-Cinetone™
- 4K High Frame Rate 120fps recording
- Preset and User 3D LUT compatibility with Scene File
- 10-bit HLG picture profile
- S-Log3 for better reproduction of gradations
- Recording movies with 10-bit depth and 4:2:2 colour sampling
- All-Intra internal recording
- 16-bit RAW data output
- A choice of battery types for different applications
- Fast Hybrid AF for dependable focus during movie shooting
- Real-time Eye AF and Face Detection AF
- Lens-ring AF subject selection
LENS MOUNT
E-mount
SENSOR TYPE
35 mm full-frame, single-chip CMOS image sensor
PIXELS
Approx. 12.9 megapixels(total), Approx. 10.2 megapixels(effective)
BUILT-IN OPTICAL FILTERS
Clear, linear variable ND(1/4ND to 1/128ND)
SENSITIVITY
ISO 800/12800 (Cine EI mode, D55 Light source)
SHUTTER SPEED
64F to 1/8000 sec
WHITE-BALANCE MODES
Preset, Memory A, Memory B (2000K-15000K)/ATW
GAIN CONTROL
-3 to 30dB (every 1dB), AGC
GAMMA CURVE
SDR mode : S-Cinetone, Standard, Still, ITU709, HDR mode : HLG_Live, HLG_Natural
LATITUDE
15+ stop
TC INPUT/TC OUTPUT
BNC, TC IN/OUT Switchable
AUDIO INPUT
Mic Reference: -30 to -80 dBu
XLR-type 3-pin (female) (x2), line/mic/mic +48 V selectable
SDI OUTPUT
SDI OUT: BNC, 12G-SDI, 6G-SDI, 3G-SDI(Level A/B)
USB
USB Type-C(x1), Multi/Micro-B (x1)
HEADPHONE OUTPUT
-16 dBu 16 Ω
Stereo mini jack (x1)
HDMI OUTPUT
Type A (x1)
LCD
8.8 cm (3.5 type)
Approx. 2.76M dots
BUILT-IN MICROPHONE
Omni-directional monoral electret condenser microphone (body) (x1)
Stereo electret condenser microphone (handle) (x1)
OPERATING TEMPERATURE
0°C to 40°C, 32°F to 104°F
STORAGE TEMPERATURE
-20°C to +60°C, -4°F to +140°F
POWER REQUIREMENTS
DC 19.5V