Description
The AB-HDRX is a dual diversity COFDM receiver, utilizing maximal ratio combing that supports MPEG-4 video and embedded audio decoding. This technology provides a highly reliable decode solution in demanding portable applications.

Designed for a new generation of camera-mounted HD SDI transmitters the AB-HDRX supports video and embedded audio transmission with selectable bandwidths of 6, 7 and 8 MHz within the 5.8 GHz range. The unit's size makes it ideal for point of view, ENG, sporting events, and reality-based production as well as confidence monitoring. It's ability to be powered from an Anton/Bauer Logic Series® battery allows for complete portability.

The AB-HDRX has a friendly local control panel. The local controls include the selection of up to 12 presets. Simple to read unit statistics on the front panel include Receive Signal Level, Streaming and Decode.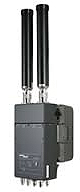 Product Code: ABHDRX
Discontinued

• Size: 2.31 x 6.75 x 3.69 in (5.87 x 17.15 x 9.37 cm)
• Weight: 2.4 lbs (1.1 kg)
• 5.8 GHz
• Dual input maximum ratio combining diversity receiver
• Unmatched adjacent channel performance
• Optimized for size
• Broadcast quality video
• MPEG-4 Part 10/H.264
• 2 audio channels
• 12 user configurable presets
• Embedded audio
• Very low power consumption
• Video, audio, data and telemetry
• High-gain, large range antennas
• User-friendly controls
• Web GUI
• OPTIONAL: IP streaming of MPEG TS