---
7% Goods Service Tax (GST) will be imposed over the total invoice value if purchased locally in Singapore. However if you are a tourist visiting Singapore, this GST amount can be refunded at the Changi International Airport Departure Hall / Seletar Airport Passenger Terminal / Marina Bay Cruise Centre Singapore/ International Passenger Terminal at Harbourfront Centre GST Refund Centre before departure with goods within 2 months from the date of purchase. Please note that only Tourists who have met the Tourist Refund Scheme's conditions and eligibility criteria can claim for the GST refund. Please visit: https://www.iras.gov.sg/IRASHome/GST/Consumers/Tourist-Refund-Scheme/ for GST Guide for Visitors on Tourist Refund Scheme.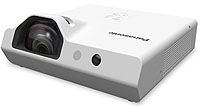 Product Code: PTTX310R

Superb performance with Interactive functionality
• A brightness level is 3,200 lm and contrast ratio of 5,000:1 in a compact body.
• A maximum 8,000-hour*3 lamp replacement cycle.
• A long-life filter with a maximum 5,000-hour*4 replacement cycle.
• Quiet 29-dB*5 design helps to hold viewers' attention.
• The Daylight View Lite function supports easy and comfortable viewing in a bright room.

Ease of Installation
• Wide 80-inch screen images with a short projection distance of 75 cm (2.5 ft). *6
• Corner Keystone Correction*7 enables angled projection.
• Curved Screen Correction*8 for projecting onto a curved screen.
• Multi Projector Monitoring and Control Software is available for monitoring and controlling multiple Panasonic projectors from a single PC.

Variety of useful functions
• A USB Memory Viewer function*9 for projecting without having to connect to a computer.
• USB Display function*9 for easy projection using a USB cable.
• Equipped with an HDMI input terminal and abundant interfaces.
• Other useful features including a built-in 10 W*10 speaker, a built-in closed caption decoder, Blackboard modes, etc.

*1 Interactive function: PT-TW341R only.
*2 Brightness ratings for models in the PT-TW341R series are as follows: PT-TX400 (3,500 lm), PT-TW341R/TW340/TX310 (3,200 lm),
and PT-TW250/TX210 (2,700 lm).
*3 This is the maximum value when the lamp power is set to Eco2.
*4 The usage environment affects the duration of the filter.
*5 Lamp power: Eco.
*6 For the PT-TX400/TX310/TX210. Projection distance of 80 cm (2.6 ft) for the PT-TW341R/TW340/TW250.
*7 Only vertical keystone correction for the PT-TX210.
*8 Curved Screen Correction is not supported for the PT-TX210.
*9 Exclude the PT-TX210.
*10 2 W speaker for the PT-TX210.
Power supply
100-240 V AC, 50/60 Hz
LCD Panel
Display method
Transparent LCD panel (x 3, R/G/B)
Drive method
Active matrix method
Panel size
16 mm (0.63 in) diagonal (4:3 aspect ratio)
Pixels
786,432 (1,024 x 768) x 3, total of 2,359,296 pixels
Lens
Fixed (0.46:1 throw ratio), manual focus F=1.8, f=6.08 mm
Lamp
230 W x 1
Lamp replacement cycle
4,000 h/5,000 h/8,000 h*1 (Lamp power: Normal/Eco1/Eco2)
Screen size (diagonal)
1.27-2.54 m (50-100 in), 4:3 aspect ratio
Brightness
3,200 lm
Center-to-corner uniformity ratio *2
80%
Contrast
5,000:1 (all white/all black)
(RGB signal input, Color mode: Dynamic, Lamp power: Normal)
Resolution
1,280 x 800 pixels
Scanning frequency
HDMI IN
fH: 15-91 kHz, fV: 50-85 Hz, dot clock: 25-162 MHz
RGB (analog)
fH: 15-91 kHz, fV: 50-85 Hz, dot clock: 162 MHz or lower
YPBPR (YCBCR)
fH: 15.75 kHz, fV: 60 Hz [480i (525i)]
fH: 31.50 kHz, fV: 60 Hz [480p (525p)]
fH: 15.63 kHz, fV: 50 Hz [576i (625i)]
fH: 31.25 kHz, fV: 50 Hz [576p (625p)]
fH: 45.00 kHz, fV: 60 Hz [720 (750)/60p]
fH: 37.50 kHz, fV: 50 Hz [720 (750)/50p]
fH: 33.75 kHz, fV: 60 Hz [1080 (1125)/60i]
fH: 28.13 kHz, fV: 50 Hz [1080 (1125)/50i]
fH: 28.13 kHz, fV: 25 Hz [1080 (1125)/25p]
fH: 27.00 kHz, fV: 24 Hz [1080 (1125)/24p]
fH: 27.00 kHz, fV: 48 Hz [1080 (1125)/24sF]
fH: 67.50 kHz, fV: 60 Hz [1080 (1125)/60p]
fH: 33.75 kHz, fV: 30 Hz [1080 (1125)/30p]
fH: 56.25 kHz, fV: 50 Hz[1080 (1125)/50p]
Video/S-Video
fH: 15.75 kHz, fV: 60 Hz [NTSC/NTSC4.43/PAL-M/PAL60],
fH: 15.63 kHz, fV: 50 Hz [PAL/SECAM/PAL-N]
Installation
Ceiling/floor, front/rear
Built-in speaker
10 W (monaural)
Keystone correction range
Vertical: ±15° (Auto, Manual), Horizontal: ±15° (Manual)
Terminals
HDMI IN
HDMI 19P x 1 (compatible with HDCP, Deep Color)
480p, 576p, 720/60p, 720/50p, 1080/60i, 1080/50i, 1080/60p,
1080/50p, 1080/24p, 1080/25p, 1080/24sF, 1080/30p,
VGA (640 x 480)-WUXGA (1,920 x 1,200),*4
audio signal: linear PCM (sampling frequencies: 48 kHz, 44.1 kHz, 32 kHz)
COMPUTER IN 1
D-sub HD 15-pin (female) x 1 [RGB/S-Video/YPB(CB)PR(CR)/Scart RGB]
COMPUTER IN/OUT 2
D-sub HD 15-pin (female) x 1 [RGB/Monitor output] (Input/output switching)
VIDEO IN
Pin jack x 1
SERIAL IN
D-sub 9-pin (female) x 1 for external control (RS-232C compliant)
AUDIO IN
M3 x 2 (L-R x 2)
AUDIO OUT
M3 x 1 (L-R x 1) for output (variable)
SERIAL IN
D-sub 9-pin (female) x 1 for external control (RS-232C compliant)
LAN
RJ-45 x 1 (for network connection, 10BASE-T/100BASE-TX,
compliant with PJLink™)
USB A
USB type-A (for the USB Memory Viewer) x 1
USB B
USB type-B (for the USB Display) x 1
Cabinet material
Molded plastic (PC)
Dimensions (W x H x D)
335 mm x 134.1 mm*5 x 329 mm
Weight
Approx. 4.0 kg (8.8 lbs) (tentative)
Noise level
TBD (Lamp power Normal), 29 dB (Lamp power Eco)
Operating Temperature
Normal use: 5 °C-40 °C (41 °F-104 °F) [at altitudes less than 1,400 m (4,500 ft)]
5 °C-35 °C (41 °F-95 °F) [at altitudes of 1,400-2,700 m (4,500-8,800 ft)]
Operating humidity
20%-80% (no condensation)
Supplied accessories
Power cord x 1*7, wireless remote control unit x 1,
batteries (AAA/R03/LR03 type x 2), computer cable x 1,
Software CD-ROM (Multi Projector Monitoring & Control Software)