Canon XA35 Professional Camcorder
Product Code: XA35

This model has been discontinued

Features
Genuine Canon 20x HD Optical Zoom Lens
New, advanced HD CMOS Pro Image Sensor
Full HD 1920x1080 recording
Dual SD Card Slots
Built-in WiFi Technology
HD/SD-SDI Output
Super fast file transfer capability
Wide DR Gamma and High Priority Mode
Robust, compact and portable design
3.5-inch OLED Viewscreen
Excellent image reproduction
XA35 Professional Camcorder provides clear and unbetable preformace to its users. XA35 is a perfect choice for Electronic
News Gathering (ENG) production, broadcast news, sports events, documentaries and other fast-moving recording situations. Canon XA35 combines portability, excellent picture quality and I/O capability in its design. Its built-in HD/SD-SDI Terminal extends capablity in connection to broadcast vans, workstations and other digital cinema/TV hardware, helps to deliver extraordinary quick transfer of uncompressed video with timecode and audio embedded for fast productions. XA35 features Genuine Canon 20x High Definition Optical Zoom lens and latest designed HD CMOS Pro Image Sensor which helps to capture excellent high quality Full HD 1920x1080 video and images even in low-light.

XA35 is developed with two new modes which are Wide DR Gamma and Highlight Priority. These two modes are able to produce wide range of colors and tones. XA35 also featuring Interval Recording option which makes the camcorder can record the video with rapid motion of up to 1200x the original speed. All these features make the XA35 camcorder become unbeatable, speedy and excellent in video recording.

Genuine Canon 20x High Definition Optical Zoom Lens
The XA35 Professional Camcorder features a Genuine Canon 20x HD Zoom Lens that provides a highly versatile zoom range with 35mm equivalent of 26.8–576mm, and a minimum object distance of just 23.6 inches (60cm) to help capture newsworthy recordings near and far. The impressive image quality is enhanced by an 8-blade Circular Aperture design, which helps to avoid the ''starburst'' effect of point light sources in non-circular aperture designs. Out-of-focus areas are smooth, natural and appealing. An endless-type focus and zoom control includes user-programmable direction and sensitivity modes. Zoom speed can be set to either a variable or constant (with 16 levels) speed setting, with Fast, Normal, or Slow zoom speed levels.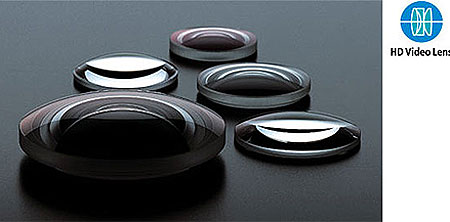 New, Advanced HD CMOS Pro Image Sensor with Improved Low-light Performance
For incredibly sharp and detailed high-definition video recording, the XA35 Professional Camcorder features a reengineered, 1/2.84-inch, 2.91 Megapixel HD CMOS Pro Image Sensor that captures approximately 2136x1362 pixels. Thanks to the sensor's enhanced sensitivity, the XA35 helps provide vivid, accurate recording through an improved signal-to-noise ratio.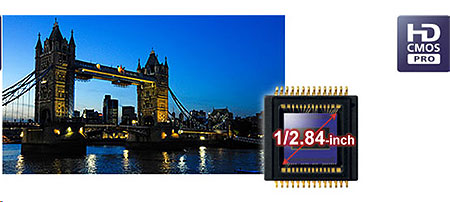 HD/SD-SDI Output
The XA35 Professional Camcorder amplifies convenience with an HD/SD-SDI terminal, whether streaming directly to a broadcast van or connecting to a recorder to make high-quality video recordings for archiving purposes. Designed for professional broadcast use, HD/SD-SDI output provides an uncompressed signal at 1920x1080 resolution with 4:2:2 color sampling and embedded audio and time code.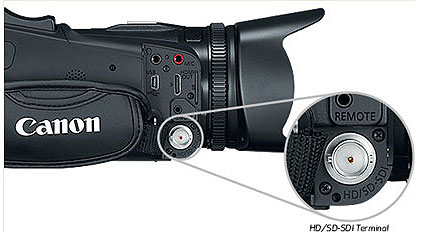 Built-in Wi-Fi® Technology with FTP Transfer Capability
The XA35 Professional Camcorder features built-in dual-band (5 GHz/2.4 GHz) Wi-Fi® technology, enabling FTP file transfer to Cloud-based servers for convenient back ups or for situations where a relay station, such as a news truck, is unavailable. The dual bands help ensure that data can be sent even in areas with increased signal interference. It is also possible to connect to compatible networks, wireless hotspots and compatible iOS® mobile devices using the free Canon Movie Uploader app*, or play back video on the camcorder's memory cards to Wi-Fi® enabled TVs and computers. Wi-Fi® technology also allows remote control of key camcorder controls, such as recording start/stop and zoom (in three different speeds), exposure functions (aperture, shutter speed, gain, exposure compensation and more), white balance and focus settings via a compatible tablet or smartphone. The ability to control the camera remotely, such as when using a camera crane, helps improve mobility in various shooting environments.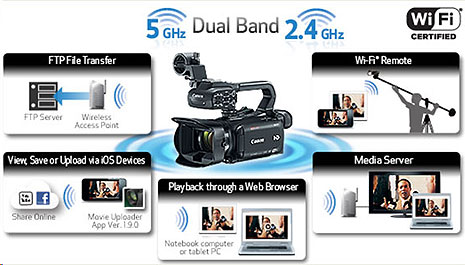 Camera
Specifications
Monitor
3.5-inch widescreen OLED touch panel colour, approx. 1.23million dots
Electronic Viewfinder (EVF)
0.24-inch, approx. 1.56million dots
Image Sensor
1/2.84-inch HD CMOS Pro sensor, approx. 3.09 megapixels (total pixels), approx. 2.91 megapixels (number of effective pixels), RGB primary colour filter
Microphone
Stereo Condenser Microphone
Lens
20x optical zoom
Digital Zoom
400x (Movie mode only)
Lens Configuration
12 elements in 10 groups, 2 Aspherical lenses used
Filter Diameter
58mm P0.75
Image Stabilizer
Intelligent IS
AF System
High-speed AF (Instant AF), Medium AF, Face Priority AF, Face-Only AF, Touch Focus, Manual focus Ring
Video Recording Specifications
Video Recording Standards
AVCHD (AC-3/H.264 standard): HD Recording only 1920 x 1080 / 1440 x 1080 recording supported
MP4 (AAC/H.264 standard): HD Recording only 1920 x 1080 / 1280 x 720 / 640 x 360 recording supported
Effective Pixels
2136 x 1362
Audio Compression
AVCHD: Dolby Digital 2ch (AC-3 2ch)
MP4: MPEG-2 AAC-LC (2ch)
Shooting Modes
Smart Auto, P, Tv, Av, M, Cinema, Portrait, Sports, Night, Low light, Snow, Beach, Sunset, Spotlight, Fireworks, Infrared
Shutter Speed Range
Tv mode:
1/6 - 1/2000
P mode: 1/12.5 - 1/500
Low light mode: 1/2 - 1/500
Minimum Illumination
Approx. 0.1lx (low light mode)
Cinema Style
Cinema-look filters
Image Effects
Brightness, Contrast, Sharpness, Colour Depth
Relay Recording
Supported
Dual Recording
Supported
Recording Check
Supported
Easy Operations Features
Zoom
Zoom Lever
Navigation
Touch based OLED panel
Extended Control
Remote Control
Battery
Rechargeable Intelligent lithium battery BP-820 / 828
Still Image Recording Specifications
Still Image Recording
SD / SDHC / SDXC memory card
Still Image Compression
DCF, Exif Ver. 2.3 supported
Compression method: JPEG
Recording Pixels
In movie Rec Pause and Photo Mode: 1920 x 1080 / 1280x 720 / 640 x 360
Shooting Modes
Smart Auto, M, P, Tv, Av, Portrait, Sports, Snow, Beach, Sunset, Night, Low light, Spotlight, fireworks, Infrared
Inputs / Output Terminals
Video Out
Mini HDMI, AV Cable
HD / SD SDI Terminal
Yes
Analog Output
Yes
Microphone Terminal
Yes
USB Terminal
Yes
Tally Lamp
Supported
Infrared Mode
Supported, with white or green light recording
HDMI-Out
Supported
Audio-In
XLR (x2)
General
Power Supply (Rated)
7.4 V DC (battery pack), 8.4 V DC (DC in)
Operating Temperature
0 - 40°C 85% (relative humidity)
-5 - 45°C 60% (relative humidity)
Dimensions
Approx. 109 x 84 x 182mm (4.3 x 3.3 x 7.2in.)
Weight (Main Unit)
Approx. 770g (1.7lb)