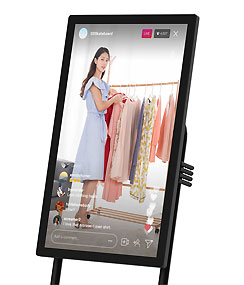 YoloLiv YoloMax makes Live Selling possible for all brands, retailers, and influencers. Unlock awareness, engagement, sales through shoppable livestream video. Stand Out, Sell Live.

Stand Out, Sell Live
Give your viewers the best shopping experience with Better Audio & Video Quality, Multiple Angles, Picture In Picture, Graphic Overlays, Virtual Backgrounds & More

Elevate Your Stream with Multiple Angles
Showcase the products from different angles by connecting multiple cameras that adjust with beautiful layouts. YoloLiv YoloMax supports 2 HDMI In ports and 1 USB In port for closeup & wide-angles to create the best viewing experience for the shoppers.

Create Engaging Background with Chroma Key
Professional level green screen effect made easy with YoloMax. No complicated techniques required. With just a few taps, you can easily set up a virtual background and change it during the stream according to the topic, your script, or the response from your audience.

Stand Out with Various Graphic Overlays.
Brand your live streams like a pro with a bunch of built-in graphic overlays like lower-thirds, images, watermarks, custom logos, countdown timers and more. Graphics add a professional and polished look to any live stream and help you stand out from your competitors.

Amplify Your Sales Event After the Stream.
Record and edit your live streams and turn them into short shoppable videos that you can share everywhere. Reach new audience without having to create new content from scratch. Live stream ends, but your sales can continue.

Why You Need YoloMax
Qualcomm 8 Core CPU: Expand the possibilities of connected computing and represent the ultimate in performance, power efficiency.

32 Inch Monitor: See clearly the comments from your audience and engage with them lively, even you are 1-2 meters away.

Chroma Key: Seamlessly add different backgrounds or locations for your live productions with the Built-in Chroma Key in a few taps.

External Microphone: Connecting a microphone through the Line In/Mic In port or sound card via USB-C port to provide high-quality playback.

WiFi, Ethernet & 4G: Support Wi-Fi, Ethernet, and cellular data that provide stable network, so you don't have to worry about losing connection during streaming.

Multi-Cam Prodution: Connecting 2 HDMI and 1 USB camera and switch quickly between those shots for the best viewing experience.

Vertical & Horizontal Flip: Flip video vertically or flip video horizontally for HDMI and USB port so the stream will look good to viewers (not mirrored).

Custom PIP: Add a picture-in-picture (PIP) effect to your live stream to feature a speaker during a presentation or and highlight key parts of your broadcast seamlessly.

Multiple Control: Use the supplied wireless keyboard, or your own wireless mouse or touch control at your fingertips.

Built-in Apps: Integrates main Apps including video, e-commerce and social media platforms so you can directly log in and start streaming.

Other Web
Yololiv YoloMax

Interfaces: HDMI IN 1; HDMI IN 2; USB-A3.0*3; HDMI OUT; ETHERNET; LINE IN(3.5mm); MIC IN(3.5mm); TYPE-C; AUDIO OUT(3.5mm); Nano SIM Card Holder;
CPU: QualComm Snapdragon 845, 8-core Processobr
Same as Instream, but more powerful than YoloBox Pro
Rated Voltage Range: 100-240V~2A 50/60 Hz
Power Consumption: < 80W
Video Input Format: HDMI IN 1:
540p
50
720p
50/59.94/60
1080i
50/59.94/60
1080p
23.98/24/25/29.9/30/50/50.94/60
HDMI IN 2:
540p
50
720p
50/59.94/60
1080i
50/59.94/60
1080p
23.98/24/25/29.9/30
USB:
540p
50
720p
50/59.94/60
1080i
50/59.94/60
1080p
23.98/24/25/29.9/30
Video output Format: 540p 720p 1080p
Audio Input Format: 32KHz/44.1KHz/48KHz/16-bit
Video Encoded Format: MPEG-2MPEG-4HEVCH.263H.264
Audio Encoded Format: wav/aac/wma
Wi-Fi/BT: 2.4G / 5G
Operating Temperature: 0℃-40℃
4G Network: 4G Network Countries & Frequency Band For Users:
U.S:[Variant for North America(Canada/Mexico)]
B2/B4/B5/B7/B12/B13/B14/B17/B25/B26/B41/B66/B71
Notes: Mexico B4 For Non-US/Canada/Mexico
EU: [EMEA/India/Korea/Taiwan/South Asia/Latin/America/Australia/New Zealand ]
Users:B1//B3/B7/(B8) Notes: Thailand B1, B3
Please note that the certification of Instream Encoder is in line with the mainstream open 4G band requirements of operators in this country or region. For details, please refer to the approval report of this country or region.
Operating Humidity: 15%-85%, No Condensation