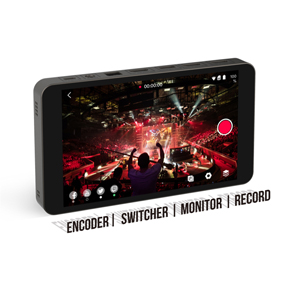 YoloLiv YoloBox Live Stream Studio With Encoder, Switcher, Monitor and Recorder
Product Code: YOLOBOX


All-In-One Integrated System For Switching | Encoding | Recording | Monitoring
The industry's first REALLY all-in-one live production system that require no external devices at all to operate. It's simple, portable, reliable and affordable.
Yololiv Yolox is an integrated all in one system encoder.

I
t comes with a bright 7 inch Android Monitor, it is a Video Switcher, a streaming encoder and a Recorder.
The device supports 2 x HDMI , 1 x USB, and a 3.5mm Audio Jack input.
Added to the above input, you can also program out your Pre-recorded Video from your SD card via its SD slot and one more from another Yolobox Live stream, thus making it to a total of 5 video Source inputs.

The built-in battery support closed to a 3 hours continuous operation, of course, it can be AC powered or add on your external Power bank to support even longer operation
There are 3 ways that it can be connected to the internet, Wifi, Ethernet, or your own 4G LTE network SIM card

For Live streaming, its supports 3 live streaming simultaneously to any mix of 3 streaming platform ,eg Facebook, Your-tube , Twitch and its support RTMP too.

The Yolobox also support the common Transition effect and PIP in addition to its 3 layers, ie Logo, Subtitle , Running text, and Scoreboard ( for sports events)

For Cameras choice, Yolobox supports virtually all cameras with HDMI output up to 1080P
.

Introduction to Yolobox
Comparison - OBS vs Yolobox, Yolobox Pro
Yololiv Yolobox
Yolobox Pro
Blog
Comparing Software based Video Mixing with Yolobox
Why YoloBox is a Better Fit Than OBS
Video mixers are some sought-after software and hardware tools that allow users to mix videos and add some effects to them. While software tools like vMix, Telestream Wirecast, and OBS (Open Broadcast Software), the hardware tools are LivePro L1, YoloBox Pro, etc. But, YoloBox Pro are the perfect fit compared to software tools like OBS.
YoloBox is a studio device used for HD live streaming. Regarded as the most portable and convenient device to use, there are no unique tactics required to use the touchscreen device. It has exciting features such as encoding, recording, switching, and monitoring. And one thing that makes it unique is that you can stream simultaneously to 3 different digital platforms. YoloBox & YoloBox Pro both supports the feature of multi-cam live streaming through custom RTMP.
Essential Features That Make YoloBox Stand Out
* It enables you to create layers like titles and overlays whereby you can run your video mixing by tapping the touchscreen interface.
* YoloBox can encode an outbound system onboard, so, you can stream with the internet, WiFi, or a 4G LTE Sim card.
* It enables you to record Output stream into an SD card through the SDI slot without any hiccup.
* YoloBox equally allows you to split the screen while you record and then customize the size of your video record the way you want it.
* The device has dual audio inputs, which allow you to add external Audio source via its 3.5mm input in additional to audio sources embedded in the HDMI video
* You can add logos, watermarks, rolling captions and etc, which is the important to make presentation professional.
* And most significantly, it's portable to use and affordable as well.
Similar to YoloBox, OBS Studio is commonly used for video recording, live streaming and visual mixing. But unlike YoloBox, OBS is an open-air tool for live streaming. It enables you to stream videos via your computer device to social media streaming platforms like Facebook, YouTube, Hitbox, and Twitch. You can configure it on all Windows, Linux, and Mac OS devices.
Much has been emphasized between YoloBox and OBS before, which is better for live streaming. But the fact remains that YoloBox /Pro will stay the best and most affordable compared to OBS.
10 Reasons of choosing YoloBox over OBS Studio!

1. OBS always makes it a little more complex for some users because you'll require a computer and know how to tune-up, which can be pretty confusing. But YoloBox is simple to use because all you need is the intelligent Touchscreen control, and you're good to go.
2. If you're a new user, it'll be pretty tricky for you to set up your OBS studio via the computer because the instructions are complex and can't be easily understood.
3. It requires users to use third-party software for their recordings, which you can't see in YoloBox.
4. If you still want to edit your record on OBS, you still need to use other third-party software to do that, unlike YoloBox.
5. While using OBS, you can't be able to create a playlist of your contents, thereby requiring you to select a preview before switching to live.
6. It can be frustrating when you figure out that you can't store your media files, meaning that if you move them to a different folder on your PC, it might turn out to be an error prompting you to upload the files again.
7. OBS does not have a default lower thirds plugin, meaning that it only requires other third-party integration, which can crash sometimes, or, better still, might not work.
8. It doesn't broadcast simultaneously with several resources, and it's incompatible with Windows XP.
9. Given that it requires a PC before it can work, you have to bear in mind that it chunks up a lot of memory space which might cause the system to crash if it can't carry the load again.
10. It might get to a point where the software will sometimes freeze over and crash, which will require you to start all over again with the installation and settings.
YoloBox Pro works with Zoom and it is quite simple as well. For Yolobox pro you need to connect directly to your computer USB input from Yoloboxpro type c USB output . While for yolobox You will need to have HDMI /USB Capture card . The USB input to the computer will appear as the source of camera ( Just like a external web cam ) on Zoom. At the screen of every attendee, YoloBox's output program will reflect in the computer screen.
In additional, the greatest benefit of using YOLO Box is their superb speed. The incredible fast speed can easily process 45 frames every second. Yolobox recognizes the generalized representation of object. It features HDMI out, allowing you to display the live stream locally on the HDMI device. added to that, it has line-level audio input with headphone audio out too. With this, you will also record the stream in mp4 format to the SD card.
Ports
1. HDMI IN: Video input
2. USB: Video input
3. HDMI OUT: Video output
4. Ethernet: Connect to Internet by Ethernet cable
5. AUDIO IN: Link with microphone
6. TYPE-C: Power connector
7. AUDIO OUT: Link with earphone for sound monitor
8. SIM: Insert SIM Card to get into Internet
9. HOTSHOE: Fix YoloBox with camera
10. SD: Insert SIM Card for video storage
11. Power Button: Turn on and turn off

Dimensions and Weight
Length:185mm
Width:107mm
Height:19.5mm
Weight:480g

Encoded Format
Video Encoded Format:H.264
Audio Encoded Format:AAC (48k)
Video Recorded format:MP4
Audio Input Format:32kHz, 44.1kHz, 48kHz, 16-bit
Video Input Format:1080i/ 720p/ 1080p
Video Recorded Resolution:Up to 1080p:60fps
Live Broadcast Resolution:540P/720P/1080P

Video Storage
Storage Card Type:SD Card
Storage Card Capacity:Expanded to 128G

Network Connection
WiFi:2.4G/5G, Support 802.11a/b/g/n/ac
4G Network:LTE-FDD B2/4/5/7/12/13/17/25/26,LTE-TDD B41
SIM Card Size:Standard SIM Card

Power
Power Interface:Type C, Quick Charge 3.0
Battery Capacity:3.7V/5700mAh

Transmission
Network Protocol:RTMP

Working Environment
Operating Temperature:-10℃-40℃
Storage Temperature:5℃-40℃


In the Box
Video Encoded Format:H.264
Audio Encoded Format:AAC (48k)
Video Recorded format:MP4
Audio Input Format:32kHz, 44.1kHz, 48kHz, 16-bit
Video Input Format:1080i/ 720p/ 1080p
Video Recorded Resolution:Up to 1080p:60fps
Live Broadcast Resolution:540P/720P/1080P

How to start Video Switching and Streaming using Yolobox Liv
- Firstly please ensure you have an Wi-Fi, Ethernet or Data connection for the Yolobox.
- Check Wi-fi Upload speed - recommended to achieve at least 5mpbs to start with.
- Set up your own email account and login to Yolobox, you will be given a 4 digital code to activate the streaming account.
- Set up your FB account 30 min ahead of the event. For YouTube user, prepare 24 hrs ahead to ensure your account is still Alive
- Recommend to use a Fix Stream key for RTMP connection. To save the trouble from re-log in.
- Expected streaming Latency: Excellent: 7 Seconds, Normal: 12- 15 Seconds. Results are network dependent.
- If you are using your mobile hotspot or Data, always use LTE / 4G for better speed. Especially if you are on the move.
- Always ensure your equipment is fed with enough Power and have Power Bank for standby.
- Use USB input as extra Video in - Need a Capture card for a Camcorder, or Webcam for direct connection.
- External Mic-in is recommended if you need to stream only one Audio source.

YoloBox FAQ's

1) Video: How to get RTMP
https://www.youtube.com/watch?v=dBYCCc2g3EU&t=13s

2) How to get stream from the other Yolobox which is located elsewhere

Tips:
- Login to both Yolobox with the same account.
- Create two streaming.
- Start one streaming, no need to send the streaming to any destination
- Ensure the first streaming becomes stable before proceeding (the kbps, fps dots turn green)
- Select "live stream" as another video source from the second Yolobox, from there you can capture one external "live stream" from a remote location.

3) Microphone does not work?
Audio-In port is intended for Mixers and Lavalier Microphones (therefore it will not work with those which are not battery-wired or self-powered)

4) 4G Sim-Card does not work? Block the second HDMI-In?
In some regions, you can just insert a 4G sim card to YoloBox then you will have 4G internet connection. However, in the regions that we are not certain, we provide an external dongle/modem in the package (some of our competitors charges $200 for this).

In this case, you will need to insert the Sim-Card into the dongle/modem correctly first, then you will need to insert the dongle/modem into the USB port. To prevent from blocking the HDMI, we provide an L shape adapter in the package.

Tested in major countries and major carriers that all have worked. So far, the majority of the issues reported are due to the mis-operation by customers on certain procedures, or the wrong YoloBox setting.

Tips:
- Make sure data plan includes call time and texts, not just internet traffic.
- Insert correctly.
- Under "Settings" turn off Wi-Fi or Reset network connection.

5) Can I adjust the Bitrate?
Yolobox currently use a VBR approach for bitrate which will automatically adjust accordingly. Theoretically there is no limit. However, its best to stream under 10,000 kbps. Yolobox is also adding an option for the bitrate setting soon.
For more, please visit https://en.wikipedia.org/wiki/Variable_bitrate

6) Stream recorded in separated 10-minute clips
Like a lot of cameras, it will stop recording after a certain amount of time. YoloBox applies the same product logic to prevent damage of the video and protect your content if anything occurs. Yolobox will add an option for recording continuously without the 10 minute separation via a software update.

7) How can I Output a clean HDMI video?
There is a HDMI "Loop-Through option at the bottom of the streaming page for clean HDMI output.

8) Unable to detect pictures and videos from an SD card?
Please make sure the SD card is in FAT 32 format and pictures are PNG format.

9) How to connect YoloBox with GoPro/iPhone/PC?
GoPro: Please connect with HDMI (Micro to Standard) and make sure you have the right setting on GoPro Output (Choose Live in Preference/Output)
For iPhone: You will need an USB-C converter to HDMI. (iPhone as a mirror display, not just camera capture)
For PC: You will need a HDMI (Output to HDMI-In) to Yolobox with HDMI-In.

10) Unable to update software?
Normally it will take one to two minutes for the software update. Please ensure that you have a working internet. Try switching to Ethernet/WiFI/4G/Hotspot if your update is not progressing as it supposed to. Also, try restarting the device. Most importantly, do make sure the internet connection is stable.

11) Unable to live-stream to a Facebook Group?
Before streaming to Facebook Group, you will need a certain setting on that group to make it right.
Please refer below for step-by-step tutorials
https://docs.google.com/presentation/d/1y72uysCXR0fhcTX52s-vkH_twsYSXytySOfMxviagGA/edit?usp=sharing

12) How to use it as a monitor.
From the beginning , select the monitor mode will do.

13) Unable to switch video resolution.
Make sure to select the resolution you prefer to stream your video with before starting your live-stream session.

14) Can YoloBox stream to multiple platforms simultaneously?
Yes. YoloBox is able to stream up to a maximum of 3 platforms simultaneously.

15) How long can YoloBox's battery last?
2 Hours+

16) Can I charge YoloBox with a Power bank?
Yes. You are able to charge YoloBox with USB Type-C from any compatible power source.

17) How can I change my SD card videos from replaying from the first frame.
On the "Account' page, look for "Switch Settings' there will be 3 settings for selection.

18) How can I save my running texts so that I do not have to type again.
Save the running texts as "Watermark" template and you will be able to select from there again in future.

19) How can I have a clean projection on another screen?
Select "HDMI Loop-through" for a clean projection without all the setting buttons portrayed.

If you are entirely new to YoloBox, feel free to watch some YouTube unboxings, demonstrations, reviews and tutorials:
https://www.youtube.com/watch?v=GsoYR7PE71Q
https://www.youtube.com/watch?v=M92xKAmhhfU
https://www.youtube.com/watch?v=T0fBB1JUFHc
https://www.youtube.com/watch?v=pnK4626ZbEo
https://www.youtube.com/watch?v=cIWIkzTpanM
-----------------------------------------------------------------------------
Additional Software Features YoloLiv Tech Team are working on:
1) Add Options to adjust Bitrate
2) Switching: Transition, PiP modes
3) Lower Thirds templates; Pre-Roll Countdown/Welcome/Break/Ending
4) Capability to Stream to Instagram
5) Record Continuously Option (not into 10 minutes separated clips)
6) Record all video inputs
7) Schedule streaming
8) HDMI Output - Loop-Through PiP
9) Better integration with Zoom both as destination and video source
10) 1080P Facebook streaming (requesting Facebook to allow YoloBox access)
11) Possible 4K resolution digestion, HEVC/H265, 5G, in the new YoloBox Pro
12) Save custom RTMP setting, no expiration

Discover the extended feature of Yolobox allowing you to Transmit Video wirelessly to anywhere, anytime on earth
Yolobox Liv is a 7 inch affordable and portable touch screen monitor accepting 5 streams of video for live switching and at the same time stream the live event to 3 destinations simultaneously.

It is RTMP supported, it Stream to your custom RTMP destination one at a time or multiple at the same time. This Device is getting it popularity in the market thanks to its simple operation but versatile application

Key Features
The Yolobox accepts Wi-Fi connection either via Ethernet cable, Hotspot or by inserting a cellular internet SIM card with Wi-Fi data.

It is a video Switcher cum Streaming device on the fly. Its built-in battery is designed to last for 3 hrs operation enable you to perform your job with or without a AC power input thus you could do your multiple Video switching or streaming anytime, anywhere as long as you are connected via Wi-Fi internet.

If you need longer operating hrs just get a handful of Power bank (with Type C connection) on standby.

The device also allow you to insert a logo, subtitle, simple running text and a score board (for sport event) on the same output screen.

Unique Feature
The Yolobox allows you to exchange/share Video among the Yoloboxes logging in under the same account.

Just imagine if you have, say 5 Yoloboxes located at its individual different location, you have the liberty to view the other remote video source as a new incoming video stream in your Yolobox.

All you have to do is to select on your devices on which location video stream you wish to be input as one of the video source for your switching/Viewing Purpose (or streaming at the same time). This is by far the only device which offer this unique feature which other could not do.

If you wish to understand better for this product you may get it from this link below.
https://www.expandore.sg/product/yolobox-live-stream-studio/

Over here I wish to highlight one of its Unique feature and special application of this device
Extended Features and application
It is a Known fact that Wireless video transmission require line of Sight to get the signal transmitted , regardless of the specified distance it can transmit.

The common transmission devices used are capable to transmit a wireless distance in between 60-400m. While for Broadcast/ Professional application may require a longer wireless transmission system for up to 1-2 km with or without repeater in between.

Needless to say these equipment are costly with price range from USD 5k to 40k.

Whatever the wireless system may be employed, they system advocate and support strictly with on line of sight between TX and RX.

However if you ever encountered the following situations, your wireless video system become helpless.
1. Transmit the video signal beyond its specification e.g. 20km or more distance away.
2. Transmit at great height e.g. studio located at 40th floor while the scene is at the lower floor for e.g. ground floor.
Even it can be cabled via SDI, it will be more than 100m which stretches the limit of a SDI cable and it is unlikely you will lay a temporary fibre cable from ground to 40th floor.
3. Or when the scene and the control room are separated by several walls. Laying temporary cable is out of your options. Wireless signal are blocked by the wall in between

All the above scenarios have one of the following specific requirement
1. Transmit at very long distance beyond the wireless transmission system's capability or need expensive equipment to support
2. Completely with no line of sight for wireless video system to operate.
If for some reasons you are required to meet the above challenges and the imposed requirement insist to view the Video remotely, what would you do??

When this is case, just remember Yolobox may save you and it might be the only solution for you!!

This is definitely possible by exploring YOLO box Live Stream function. Nonetheless, before moving forward, you have to accept the following 3 conditions / constraint

1. Both the TX and RX location must provide with internet Wi-Fi connection, either Via Cable, Hotspot or direct SIM card (4G).
2. Video Latency at the receiving end is inherent, between 2 -5 sec depending on the internet speed available to you.
3. Video image is of Streaming quality vs Compressed or uncompressed wireless video quality by wireless Transmission system.

Let's move on if the above constraint is acceptable.

How to Do it then
1. You will need 2 x Yolo boxes.
2. Get both devices connected to Wi-Fi at its location
3. Log in all devices under the same account
4. Over the scene site - Connect the Cameras via HDMI /(USB with Capture card ) as input source and press start button
5. Over the studio/receiving end - Just go to Live stream page to select the source and view it on your screen or you may output it to external larger screen Via HDMI out.
6. With the above configuration you are now ready to view the remote video stream comfortably at your studio.

Q and A - and Meet us in our store for the live demo
Q: Isn't it a streaming? from one to another?
A. Absolutely right, the key thing here is, there is no need to use computer on both sides and no RTMP platform is required (e.g. FB or U-tube & etc. ) to perform the task. It is streaming from one Yolobox to another With Direct cable Wi-Fi connection the Latency is minimized

Q: Is there any string attached to this solution? What other devices are needed?
A: No, no computer is required, No need paid-cloud to be involved, just 2 pcs of working Yoloboxes connected to internet Wi-Fi.

Q: Can it be done when Internet Wi-Fi is not available?
A : No, You need an internet Wi-Fi connection as mentioned

Q: Besides video, can I transmit my computer's content
A: As long as your computer can be connected by HDMI to the Yolobox , it can be done.

Q: How much is this solution as compared to a Professional Wireless Video Transmission
A: If you can afford to buy a wireless Video Transmission that is capable of transmitting over a distance 600m, 2 x Yolobox are still cheaper. Remember that Yolo box is a Monitor, Switcher and Streaming devices.

Q: Will your live stream carry audio also
A: Yes the audio is embedded on HDMI together with video stream.

Q: What is the Minimum Internet Speed to achieve Livestream and Streaming
A: Our recommendation is to have Min 5Mbps on upload speed and if you using SIM card we strongly recommend to use 4G SIMS Card

Q: Can the Latency be improved for less than 3 Sec
A: It can be achieved if you have internet speed for more than 45Mbps on upload speed, and if situation allows, please use Ethernet cable instead of Wireless Wi-Fi.

Q: How can I check my internet speed
A: You can do a Google search with search key words of "internet speed" - there is a web site to test or you may use a app named "Internet speed check", if you are using your phone to provide Mobile Hotspot and Tethering to the Yolobox.

Q: Which option is the best for Wi-Fi connection, wired or wireless?
A: Most preferred - connect via Internet cable, followed by 4G SIMS card, then Hotspot, as they are in order of faster internet speed.

To understand the product better please make an appointment with us to visit us at our store for a live demo.

The Shortfall of Yolobox
1. It accepts Video input via HDMI and USB3 only - It does not have SDI Connection
2. No Chroma keyer.
3. Require internet connection to operate