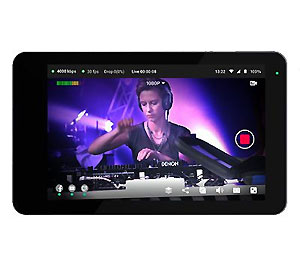 Introducing Yololiv's new Yolobox Mini, is the first live production equipment which doesn't require any external inputs.

Yololiv Yolobox Mini is portable and light-weight, designed with 5.5" touchscreen display for streaming and control easily and effectively.

It has designed with 1 HDMI input, 1 HDMI output, 1 USB-A input. We can choose input resolutions of 720p and 1080i/p, streams of 540p, 720p, and 1080p60 as per our needs.

Yolobox Mini has equipped with built-in encoder that allows for live streaming, and it can record in optional SD cards

Yolobox Mini comes with built-in restreaming ability and blends with YouTube/Facebook/Twitch in a straight way. It also provides efficent features which are needed for the challenging live broadcasts.

Overlays
● Built-in lower-thirds templates
● Real-time via feature comment overlays
● Customized PiP options
● Adding logos/watermarks/rolling captions
● Customizable scoreboard feature

Simultaneous Streaming
Yolobox Mini is capable of streaming in to maximum of 3 destinations at the same time.

Internet
Yolobox Mini can be connected to the Internet with the help of RJ45 Ethernet port, Wi-Fi and via cell service using an optional SIM card.

Monitor & Recorder
Other than live streaming, Yolobox Mini can record, switch, add overlays and transitions to improve your productivity in video production.

Streaming Platforms
Yolobox Mini can be directly connected with Facebook live, YouTube, and Twitch by login to our account and start to stream.

PDF
Yolobox Mini can accept a PDF as a local source.

Battery Life
Yolobox Mini has provided with internal battery which can power for roughly 2 hours. Via USB-C connection, we can also charge Yolobox Mini.
Introduction to Yolobox
Comparison - OBS vs Yolobox, Yolobox Pro
Yololiv Yolobox
Yolobox Pro
Blog
Comparing OBS Software with Yolobox Pro

Read our Yolobox Blog
- Live Streaming Encoder & Touchscreen Control Monitor
- Go live in 1080/60
- Great ease to operate
- Compact size
- Support 4G LTE
- Built-in Multi-streaming

| | |
| --- | --- |
| Interfaces | HDMI IN:1 USB-A 3.0; HDMI OUT: Ethernet; LINE-IN (3.5mm): AUDIO OUT (3.5mm); Nano SIM-Card Holder, 1/4" Screw Hole; SD Card Holder; USB-Type C (Only for charging) |
| Input Power | DC5V/2.5A,DC9V/2A,DC12V/1.5A |
| Power Consumption | < 18w |
| Power Supply | USB Type-C |
| USB Rated Output | USB-A: DC5V/1A |
| Battery Capacity | 4700mAh |
| Dimensions | L x W x H: 155 x 92.6 x 20 (mm) |
| Net Weight | 320g |
| Monitor Screen Size | 5.5 inch LCD Resolution:720*1280 |
| Local Video Inputs | HDMI,USB3.0 |
| Video Over Ethernet | RTMP/RTMPS |
| Video Input Connectors | HDMI,USB-A,RJ-45 |
| Video Input Aspect Ratios | 4:3,16:9 |
| Video Input Deinterlacing | Yes |
| Live Broadcast Video input Resolution | 480p/720p/1080p(up to 60fps) |
| Video Encoded Format | H.264 |
| Video processing Bitrate control | CQ,VBR,CBR |
| Hardware- Accelerated Video Encoding | Optional |
| Video Output Signal Types | FLV-RTMP,HDMI,UVC |
| Video Output Connectors | HDMI,USB-A |
| Video Output Streaming protocols | RTMP,RTMPS,MJPEG |
| Live Broadcast Video Output Resolution | 480p/720p/1080p(up to 60fps) |
| Analog Audio Input Connectors | Line In, Mic In 3.5mm |
| Digital Audio Inputs | USB, HDMI, RTMP(From internet),Local video(From SD card) |
| Digital Audio Input Connectors | USB-A, HDMI |
| Audio Input Mute | Yes |
| Audio Input Format | 32KHZ/44.1KHZ/48KHZ :16bit |
| Audio Encoded Format | (AAC) 44.1K 2Ch 16-bit |
| Analog Audio Output | 3.5mm headphone jack |
| Digital Audio Outputs | HDMI audio (Embedded), USB Audio (Embedded) |
| Record Formats | MP4 |
| Wi-Fi | 2.4G/ 5G |
| 4G Network | 4G Network Countries & Frequency Band For Users: [NA : Variant for North America (US/Canada/Mexico) B2/B4/B5/B7/B12/B13/B14/B17/B25/B26Users: (EM: Variant for EMEA/ India / Korea / Taiwan / South Asia / Latin / America / New Zealand) Users: B1/B3/B7 NOTES: Thailand B1, B3 Please note that the certification of Yolobox Mini is in line with the mainstream open 4G band requirements of operators in this country or region. For details, please refer to the approval report of this country or region. |
| USB Communication Standard | USB 2.0, and USB 3.0 |
| Ethernet Data Rate | 10/100M, half/full duplex with autodetect |
| SIM Card Size | Nano-SIM Card |
| SDCard format | FAT32(Under 128G),NTFS,EXFAT |
| Operating Temperature | 0-40℃ |
| Operating Humidity | 15%-85%, No Condensation |
| Country of Origin | Made in China |