Features AWS-G500HD
AWS-G500HD: Pre-installed modules:
1 x BKAW-560 HD Video Interface Module
1 x BKAW-590 HD SDI Module
(one empty slot available)

The new HD-only version of the system (model AWS-G500HD) retains the original multi-functionality of its standard-definitionpredecessor.
It combines into one package the capability of a six-input video switcher and six-stereo channel audio mixer,special effects generator, LCD screen for GUI control and preview/program monitor, control of Sony PTZ robotic cameras, RGB connection for PC and projector display, and an encoder and Web server for delivering streaming media, as well as a still store,character generator, scale converter and frame synchronizer.
However, the new system comes preconfigured with the following
HD analog component interface module (BKAW-560) and

HD-SDI interface module (BKAW-590).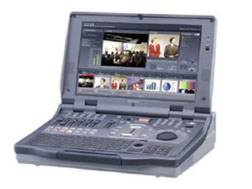 AWS G500HD Anycast Station
Discontinued
"With the latest software, end users can easily migrate from analog to digital or SDI to HD simply by swapping out various modular interface cards. And professionals ready to begin HD production can keep their operating costs low by avoiding the SD modules they may not need, while increasing their connectivity options to our professional line of HDV camcorders, decks and displays."
The third interface module slot on the new version is left empty, giving users the option for adding specific boards based on their individual needs. This slot can be configured with any of the available system modules, including the BKAW-550 PC RGB module, BKAW-570 SD video interface module or BKAW-580 SDI interface module, as well as either of the two new HD boards.
Since it was first introduced in 2004, Sony's Anycast Station system has been enhanced, with several software upgrades adding new functionality. Capabilities that have been added include: a multi-language GUI, the ability to record program output on an external hard disk, exporting edit decision lists to other devices, chroma key, picture in picture, VTR control via an iLINK® IEEE-1394 digital connection, video switching by an RM-BR300 Remote Commander unit and VOD file creation, among many others.
With the Anycast Station system, live event logistics become easier, potentially even reducing the number of personnel needed to operate individual pieces of equipment. The system's ability to control robotic pan-tilt-zoom cameras—such as Sony's EVI series of cameras or the BRC-300 and BRC-H700 units—helps crews capture shots that wouldn't have been possible with camera-operated personnel, while still allowing them to remain unobtrusive. Cameras can be positioned on rafters or other out of the way places that would be hard for human operators to work in.
The system's "all-in-one" design can also remove many of the headaches traditionally associated with live production, specifically during set-up and tear-down, allowing crews to focus on the event itself, rather than technical logistics.
The Anycast Station TM is an all-in-one content creation tool designed for large projection applications such as church productions, product promotions, event and live staging, music clip creation, conferences, seminars, and distance learning
It comprises a high-quality video switcher, an audio mixer, a large LCD display, and a streaming encoder and server - all packed into an attache case size chassis weighing only about 15 lb. (7 kg)
The video switcher provides 4:2:2 8-bit processing, 6 primary inputs plus one still picture source, 1 ME with 1 keyer (selectable between Linear Key/Luminance Key/Chrominance Key) and 1 DSK with 1 fixed station logo

The audio mixer provides 48 kHz/24-bit processing, 6 stereo channel input mixing, 6 channel faders and 1 master fader
High-resolution (1280 x 1024 pixel) internal processing for seamless switching between video and PC sources
Versatile input/output (Input: Composite, S-Video, DV, and RGB/ Output: Composite, S-Video, RGB)
VISCA control functions for compatible Sony Pan/TIlt/Zoom cameras
A large LCD screen for PGM and PVW monitoring, plus 7 windows for input source and one internal still picture source monitoring
Built-in streaming encoder and streaming server function (optional feature)
Easy operation with one integrated control panel and the multi-window LCD
Multi-camera recording for convenient nonlinear editing.