HVR-Z7 PAL Version (Discontinued)
Sony latest HDV™ products include two new camcorders that feature
1) Interchangeable lens systems,
2) Native progressive recording, increased sensitivity for low-light conditions,
3) Hybrid solid-state recording and other features designed for video production professionals and pro-sumers.
4) 1/3-inch 3 ClearVid CMOS Sensor™ system enhanced by Exmor™ technology.
HDV/DVCAM/DV File Recording on Easily Obtained CompactFlash Card
The recording time on a 16-GB CF card*9 in HDV, DVCAM and DV format*10 is approximately
72 minutes.
| | |
| --- | --- |
| CF card capacity | Recording time (approximately) |
| 16GB | 72 minutes |
| 8GB | 36 minutes |
| 4GB | 18 minutes |
| 2GB | 9 minutes |
* At least 133x speed and 2-GB capacity is required. The NCFD8GP and NCFD16GP Sony CF cards are recommended.
* The recording time may change according to the CF card type and recording format.

The new models are the HVR-Z7 (handheld) and HVR-S270 (shoulder-mount)camcorders. Sony is also introducing the HVR-M35 playback and recording deck. These new products expand Sony's line-up of HD production technologies, which includes the recently introduced PMW-EX1 XDCAM EX™ solid-state memory camera and the soon-to-be-available HVR-HD1000 shoulder-mount HDV camcorder.

Supplied Accessories HVR-Z7
Carl Zeiss lens for HD video
•Memory Recording Unit
ECM-XM1 -new microphone-
•AC-VQ1050 -2 slots battery charger-

•NP-F570 –infoLITHIUM battery-


Optional Sony AC adaptor/charger and battery kit
ACC-L1BP
Less than US$ 260

Sony's ACC-L1BP accessory kit includes
AC-VQ1051D dual charger / AC adaptor and an
NP-F970 high capacity InfoLITHIUM® battery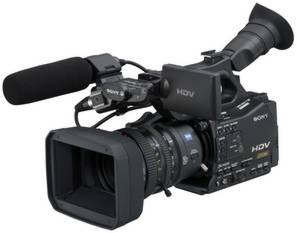 Product Code HVRZ7P JK

Select your Miller Tripod here
PAL NTSC
Get an upgraded set with
PAL /NTSC Switchable - HVR-Z7PU
for less than USD 6100
Discontinued
With this upgrade, following
recording format are available
50i , 60i ,24P,24A, 25P,30P and 60P