JVC DT-R24L41DU 24" Studio Monitor w/ HDSD

The DT-R24L41DU is a studio quality 24-inch LCD monitor suitable for use in broadcast networks and television stations, control rooms, OB Vans and post production facilities--anywhere that highly accurate, reliable HD monitoring is required.

As part of JVC's "R-Series," this is a 4th generation monitor built on the same chassis and with the same exceptional quality and reliability as our highly regarded Vérité series.


Product Code:DTR24L4DU

- Native 1920 x 1200 IPS (In-plane Panel Switching) LCD Panel offers wide viewing angle of 178°/178° with minimal color change from different viewing angles. Panel provides 1:1 monitoring of 1920 x 1080 signals while providing metering and status above or below the active picture area.
- 10-Bit 4:4:4 Video Processing for superior image gradation, advanced directional interpolation in eliminating edge artifacts, and pixel-based motion adaptive de-interlacing.
- Highly accurate reproduction in conformity with ITU standards. A chromatic range equivalent to EBU 100%, ensures color reproduction that is virtually identical to the original.
- Ultra-Low Latency Circuitry (< 1 frame) for lip-sync accuracy.
- Twelve Channel Embedded Audio Metering Display with Peak Hold viewable above or below active picture area.
- HD/SD SDI Embedded Time Code On-Screen Display
- Ergonomic Front-Panel Precision Rotary Controls.
- Safe area markers compatible with different aspect ratios
- 16:9 / 4:3 aspect ratio switching, auto aspect selection
- Two-color tally lamps
- 1080/24psf Signal Capability
- Full Screen Mode for SD 4:3 signals
- Versatile connectivity
●HD/SD SDI (x2 In, x1 Switched Out), Composite Video Input and Output
●DVI-D (HDCP Video and PC) Input
●Audio inputs with built-in speakers
●ASCII Code Input for Source ID
●RS-232C, RS-485 (RJ-45 In and Out) and Make/Trigger (RJ-45 In) External Control Connections
- Versatile 3-way stand included (Table top, Flush or Wall mount)
VESA-compliant design
- Computer Automated Calibration Capability of Black Level, White Level, Color Temperature and Gamma for mission-critical monitor matching. FREE calibration software download: https://pro.jvc.com/calibrate/
Image processor
Refined and enhanced over many years, JVC's advanced image estimation technology has now been re-designed for digital applications. Able to reproduce image quality faithful to input signals, this new 10-bit 4:4:4 real time processor delivers the true professional performance.
With this processor, the high-quality HD signals used in production can be reproduced with absolute fidelity on the LCD display, resulting in crisp, clear, high-resolution images. With motion picture content, processing of original pictures is minimized while IP conversion is optimized to maintain sharp and clear images. This sophisticated technology applies no more processing to input signals than is necessary to ensure natural image reproduction close to CRT displays.

Faithful Color Reproduction
Matrix parameters are set in response to the actual HD or SD input signal, making it possible to accurately reproduce colors in strict conformity with ITU standards without having to process color signals. And a chromatic range equivalent to EBU 100% ensures faithful color reproduction that is virtually identical to the original source.

Gamma calibration
The DT-R24L41D's gamma setting is calibrated at the factory to assure correct display of video images. Precise adjustment of various display parameters at the factory achieves excellent gray scale characteristics.

Versatile Audio Monitoring
Any two of 12 HD/SD SDI embedded audio channels can be monitored through two internally mounted speakers. Two separate pairs of analog AUDIO-IN connectors and a pair of AUDIO-OUT connectors are also provided. The AUDIO-OUT connectors can selectively output either the analog audio signals, or any pair of embedded HD/SD SDI digital audio channels. A rotary knob is used to adust volume level.

Advanced Status display and metering
Status information can be displayed in the blank area above or below the active picture area. Up to 10 characters can be used for monitor name (user defined). The monitor name can be assigned with the on-screen menu, or through the RS-232C connector. Time code (SDI-embedded), audio level meter (12 channels) and CRC error check are also available. The channel number is displayed in each level bar. Status of the audio signal can be checked at a glance for Reference Level/Over Level 0 dB, three set levels, and peak hold function.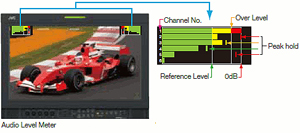 1:1 scan
This useful function enables pixel-by-pixel display. Input signals are displayed in their original format without scaling. Precise image quality evaluation is available during editing.

SD 4:3 Full Vertical Display
A menu setting allows 4:3 images to use the full 1200 vertical pixel screen area, providing larger standard definition display.

Various video production functions
Functions that support video production include various area markers and a 100%-80% adjustable safety marker that shows the area outside the image. Aspect switch allows you to select between 4:3 and 16:9 ratios, while screen check (blue check) allows more accurate image checking by toggling between R, G and B signals. Two tally lamps (red and green) are also provided.

No sync action
The screen mode activated when no signal is input or when the power-saving mode is engaged can be selected from Suspend/Gray Back/Off.

Time code on/off function
HD-SDI / SDI embedded time code display can be switched on and off as required.

4-way remote control system
The remote control system can be selected from MAKE contact system / TRIGGER PULSE system / RS-485 / RS-232C. The RS-232C system can be converted to RS-485 on the monitor for cascade signal output. It is also possible to assign the monitor name (displayed in the status area) through the RS-232C control.

Compact, all-in-one design
This slim, space-saving, all-in-one design enables easy installation on a shelf or in a rack. For added convenience, a VESA standard mounting (100 mm x 100 mm) is provided. A rugged metal base with 4-hole pattern for additional screws assures secure installation and prevents monitor from being displaced or falling.

3-way stand ensures versatile installation anywhere
R Series monitors can be easily installed anywhere at the most desired locations thanks to the supplied 3-way stand. In addition to use of the stand in a conventional tabletop configuration, the monitor can also be mounted flush up front to make the stand less conspicuous, or even mounted on a wall using the VESA-standard 100mm x 100mm pitch screw holes.

Metal chassis design
A metal cabinet provides rugged durability for use in a variety of professional applications.

Connector guard construction
With a speaker grill and enforced edge design, protruding volume controls and switches are sheltered to prevent mis-operation and damage. On the back of the monitor, the concave design helps protect the connectors. This attractive, efficient design is both practical and safe.

Others
Built-in stereo speakers

Type
Multi-format HDTV/SDTV LCD Monitor
Aspect Ratio
16:10
LCD Panel
24" wide format, active matrix TFT
Effective Screen Size
518.4 x 324 mm (20-1/2" x 12-7/8")
Pixels
1920x1200 (W-UXGA)
Display Colors
16.77million
Viewing Angle
Horizontal:178°, Vertical: 178°
Brightness
400cd
Contrast Ratio
1000:01:00
Applicable Standard
HD SDI: BTA S-004B, SMPTE292M
SD SDI: ITU-R BT.656: 525/625, SMPTE259M: 525
EMBEDDED AUDIO: SMPTE299M, SMPTE272M
Audio Output
Internal: 1.0 W + 1.0 W (L/R)
Power Requirements
AC 120/220-240 V, 50/60 Hz
Dimensions (WxHxD)
564 x 408 x 99 mm (22-1/4" x 16-1/8" x 4")

Without desktop stand (excluding protrusions)

Input / Output Terminals
Video
HD/SDI (IN1):
BNC x 1
HD/SDI (IN2):
BNC x 1
HD/SDI SDI (OUT):
BNC x 1
Video1:
BNC x 2 (IN/OUT)
Video2:
BNC x 2 (IN/OUT)
DVI-D(HDCP):
DVI-D connector x 1
COMPO/RGB:
None
EXT.SYNC (CS):
None
Audio
Audio IN1:
RCA x 2 (audio assign)
Audio IN2:
RCA x 2 (audio assign)
Audio Monitor Out:
RCA x 2 (audio assign)
External Control
Make Trigger:
RJ-45 x 1 (8-pin)
RS-485:
RJ-45 x 2 (IN/OUT) (8-pin)
RS-232C:
D-sub (9-pin) x 1
DT-V9L3GY
DT-E17L4G
DT-V17G1Z
DT-E21L4U
DT-V21G11ZU
DT-R24L41D
DT-V24G11Z
Viewable Screen size class (diag.)
9-inch
17-inch
17-inch
21-inch
21-inch
24-inch
24-inch
Screen type
Active matrix LCD
Active matrix LCD (TN)
Active matrix LCD (IPS)
Active matrix LCD (TN)
Active matrix LCD (IPS)
Active matrix LCD
Active matrix LCD
Panel surface
Non-glare
Gloss
Non-glare
Non-glare
Non-glare
Non-glare
Non-glare
Backlight
CCFL
LED
CCFL
LED
LED
CCFL
CCFL
Aspect ratio
15:09
16:09
16:09
16:09
16:09
16:10
16:10
Viewing angle (H/V)
170° / 170°
160° / 140°
178° / 178°
170° / 160°
178° / 178
178° / 178°
178° / 178°
Pixels
800 x 480
1920 x 1080
1366 x 768
1920 x 1080
1920 x 1080
1920 x 1200
1920 x 1200
Brightness / Contrast
350cd/m², 400:1
300cd/m², 600:1
350cd/m², 900:1
250cd/m², 1000:1
1000:01:00
400cd/m², 1000:1
400cd/m², 1000:1
Waveform monitor
Yes
No
Yes
No
Yes
No
Yes
Vectorscope
No
No
Yes
No
Yes
No
Yes
Closed captioning
Analog
None
Analog/Digital ITU 608/708
No
Analog/Digital ITU 608/708
None
Analog/Digital ITU 608/708
Image processing
4:2:2 8-bit
1080p 10-bit 4:4:4
1080p 10-bit 4:4:4
1080p 10-bit 4:4:4
1080p 10-bit 4:4:4
1080p 10-bit 4:4:4
1080p 10-bit 4:4:4
Chroma range
Standard
100% EBU
100% EBU
100% EBU
ITU-709
100% EBU
100% EBU
1:1 Monitoring mode
No
Yes
Yes
Yes
Yes
Yes
Yes
On screen audio metering
Digital (up to 12 ch)
Digital (up to 16 ch)
Digital (up to 12 ch)
Digital (up to 16 ch)
Digital (up to 16 ch)
Digital (up to 12 ch)
Digital (up to 12 ch)
On screen time code
Yes
Yes
Yes
Yes
Yes
Yes
Yes
IMD (in monitor display)
No
TSL (UMD V4.0)
No
TSL (UMD V4.0)
No
No
No
SD/HDSDI inputs
x2 in, 1 switched out with embedded audio/TC
x2 in, 1 switched out with embedded audio/TC
x2 in, 1 switched out with embedded audio/TC
x2 in, 1 switched out with embedded audio/TC
x2 in, 1 switched out with embedded audio/TC
x2 in, 1 switched out with embedded audio/TC
x2 in, 1 switched outwith embedded audio/TC
Dual link / 3G
No
No
Yes
No
Yes
No
Yes
DVI / HDMI Input
No
HDMI
DVI
HDMI
DVI
DVI
DVI
Component input/output
Yes (Y, Pb, Pr)
Mini D-sub (RGB, Y, Pb,Pr)
Yes (Y, Pb, Pr)
Mini D-sub (RGB, Y, Pb,Pr)
Yes (Y, Pb, Pr)
No
Yes (Y, Pb, Pr)
Composite video in/out
x1
(connector shared w/component)
x1
x1
x1
x1
x2
x2
External sync
No
No
No
No
No
No
Yes
Tally lamp
Yes
Yes
Yes
Yes
Yes
Yes
Yes
Audio speaker
Yes
Yes
Yes
Yes
Yes
Yes
Yes
Analog audio input
mono (x1)
L/R (x1)
L/R (x1)
L/R (x1)
L/R (x1)
L/R (x2)
L/R (x2)
Analog audio monitor
mono (x2)
L/R (x1)
L/R (x1)
L/R (x1)
L/R (x1)
L/R (x1)
L/R (x1)
Remote control
MAKE/Trigger
MAKE/Trigger
RS-485 (I/O)
RS-232C
MAKE/Trigger
RS-485 (I/O)
RS-232C
MAKE/Trigger
RS-485 (I/O)
RS-232C
MAKE/Trigger
RS-485 (I/O)
RS-232C
MAKE/Trigger
RS-485 (I/O)
RS-232C
MAKE/Trigger
RS-485 (I/O)
RS-232C
Power requirement
AC120/220-240V,
50/60Hz DC 12-17 V
AC 120/220V,
50-60Hz DC 12-17V
AC 120/220V,
50-60Hz DC 12-17V
AC 120/220V,
50-60Hz DC 12-17V
AC 120/220V,
50-60Hz
AC 120/220V,
50-60Hz
AC 120/220V,
50-60Hz
Rated current
0.35A (AC120V)
1.7A (DC12-17 V)
0.5A (AC120V)
3.0A (DC12-17 V)
1.2A (AC120V)
5.0A (DC12-17 V)
0.6A (AC120V)
3.5A (DC12-17 V)
0.6A (AC120V)
0.4A (AC240V)
1.15A (AC120V)
1.15A (AC120V)
Power saving mode
Yes (P.SAVE)
Low power mode
Yes (P.SAVE)
Low power mode
Yes (P.SAVE)
Yes (P.SAVE)
Yes (P.SAVE)
LCD Saver mode
No
Yes
No
Yes
Yes
No
No
Carry handle
Yes
Yes
Yes
Yes
No
No
No
Desktop stand
Yes
Yes
Yes
Yes
Yes
Yes
Yes
External Monitor calibration software
No
Yes
Yes
Yes
Yes
Yes
Yes