Inspire-1 PRO Overview:
The DJI Inspire 1 Pro and Inspire 1 RAW are the smallest, easiest professional aerial filmmaking platforms in the world. They combine DJI's unparalleled leadership in aerial technology with world-class M4/3 imaging capabilities. Whether you are a professional photographer or a Hollywood filmmaker, the Inspire 1 Pro and Inspire 1 RAW are ready to take your work to new heights.

ZENMUSE X5 AND X5R
The Zenmuse X5 and X5R are among the smallest Micro 4/3 cameras ever made and the only M4/3 cameras designed specifically for aerial imaging. Both can capture ultra-clear 4K video at up to 30 frames per second and capture photos at 16 megapixels in Adobe DNG RAW. The Zenmuse X5R is also the first camera of this type able to shoot 4K raw video, making it perfect for professional filmmaking. As M4/3 cameras, you have a choice of lenses and also full wireless control over focus, aperture and more.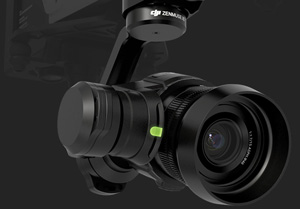 Comprehensive APP Control
The DJI go app gives you an unprecedented level of control over your camera while you fly. Use the intuitive auto focus mode to compose the perfect shot and change everything from focus to shutter speed and aperture with the tap of a finger. Through the same app you also control how your Inspire flies, from auto take-off and landing, to fine tuning of your flying experience and even a set of intelligent flight modes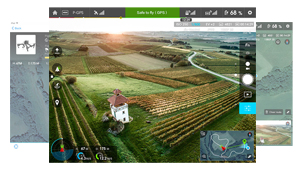 Power to FLY
New propellers and motors designed with the Inspire 1 Pro and Inspire 1 RAW in mind keep the Inspire agile and fast. You can expect flight times of 15-18 minutes with Zenmuse X5 and 13-15 minutes with the Zenmuse X5R.

*Inspire 1 Pro: TB47 battery 15 mins ; TB48 battery 18 mins.
Inspire 1 RAW: TB47 battery 13 mins ; TB48 battery 15 mins.

Complete Control
Use the Inspire 1 Pro or Inspire 1 RAW just like you would a camera, with a shutter button for stills and a record button for video built into the remote control. It also features a jog dial that allows you to change camera settings quickly, and customizable buttons for you to personalize. Plug the DJI Focus into the remote control to extend its reach as far as the Inspire 1 Pro or Inspire 1 RAW flies.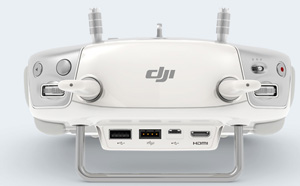 Remote Focus
Take control of your focus for the first time, and combine it with aperture control for another layer of creative freedom. Do you want to start on a shallow depth-of-field of your subject and then bring the background into sight? With remote focus control you can, with a tap of the screen inside the DJI GO app. Using the DJI Focus, you can even turn a dial just like you would turn a lens allowing for even more refined control.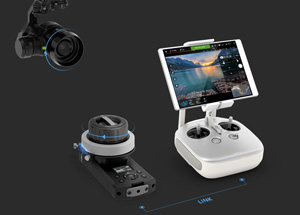 Intelligent Flight Modes
Various intelligent flight modes are available that help make some of the must difficult shots achievable by everyone. These include:

Point of Interest
Select a location or object to focus on, and your Inspire 1 Pro and Inspire 1 RAW will continuously face it as you fly, or circle around it automatically.

Course Lock
By activating Course Lock, the controls will be set to relative to your aircraft's current path. This easy navigation allows you to fly in a set direction as you fly alongside moving objects or across scenes.

Waypoints
Plan flight paths and your Inspire 1 Pro and Inspire 1 RAW will fly autonomously on your pre-set route, letting you focus on the camera.

Home Lock
Fix your controls to be relative to the Home Point. Easily pull back on the control stick to bring the aircraft back home, or push forward to fly farther away, no matter which way it is facing.
High Performance Rotors
A newly developed carbon fiber compound ensures excellent performance with increased stability while the same geometry of previous Z-blade series, known for aerodynamic efficiency, is used for the optimum flying experience.

Quick-Release Locking Mechanism
A newly designed quick-release locking mechanism greatly speeds up rotor mounting. This design also provides additional rotor security and extends the lifespan of the rotors.

Stronger Motor
New motors increase thrust by over 30% over the original Inspire 1, ensuring responsive and accurate flight even when using the heavier Zenmuse X5 series cameras.

Advanced ESCS
Electronic Speed Controllers (ESC) with sinusoidal drives replace the square wave drive of traditional ESCs, completely redefining the whole drive system. The patented algorithm in the ESCs have been tuned and customized specifically for the Inspire 1 Pro and Inspire 1 RAW, offering features such as closed loop torque control and distinct functional redundancy with the highest efficiency and maximum reliability.