---
7% Goods Service Tax (GST) will be imposed over the total invoice value if purchased locally in Singapore. However if you are a tourist visiting Singapore, this GST amount can be refunded at the Changi International Airport Departure Hall / Seletar Airport Passenger Terminal / Marina Bay Cruise Centre Singapore/ International Passenger Terminal at Harbourfront Centre GST Refund Centre before departure with goods within 2 months from the date of purchase. Please note that only Tourists who have met the Tourist Refund Scheme's conditions and eligibility criteria can claim for the GST refund. Please visit: https://www.iras.gov.sg/IRASHome/GST/Consumers/Tourist-Refund-Scheme/ for GST Guide for Visitors on Tourist Refund Scheme.
Visio Light Minima Smallest LED light with Variable color temperature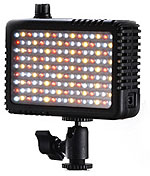 Product Code: MINIMA

Minima, new developed smallest LED light with variable color temperature, is named after the smallest chameleon in the world called Brookesia minima. Minima is a on-camera light designed for location shooting. It offers the best combination of low weight, high light intensity and low power consumption.

The lux equivalent to a 50W tungsten. Its variable color temperatures (2800°K-6500°K) allow the user to achieve excellent color balance in all kinds of shooting environments or conditions. It is easy to carry and operate because of its compact size. With up to 144 LED light bulbs, the point light source is converted to a plane light source, adding some softness to the hard light to produce the best light quality and excellent 3D effect, and provide a large-area uniform light source (8x13 cm).

About the design of Minima, its red, white and yellow LED lights can form a continuous spectrum with full-range frequency, and the low-cost and inaccurate analog circuit is replaced by the digital signal microprocessor and 25k frequency PWM controller, therefore the color ratio of different LEDs can be adjusted accurately according to different color temperature. This is the reason that why Minima can provide precise variable color temperatures which are not just for reference only and its CRI (Color Rendering Index) can reach above 90% at any color temperature from 2800°K to 6500°K. Also, it is guaranteed that a minimum color shift occurs within the range of 3-step dimming.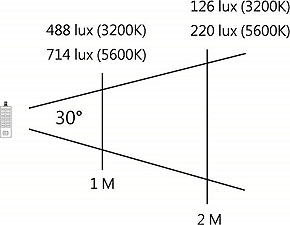 • Self testing function
• 6 Color Temperatures selection from 2800°K ~ 6500°K
• Powered with 6 AA Battery/ 12 V-18V DC input / D tap power cable
• Low power alarm indication
• Color temperature memory function
• Color temperature memory function
• Weight: 190 grams
• Dimension:12.5cm L.x11cm W.x 4cm H./ 4.92" L. x4.33" W. x1.58" H

6 Color Temperatures:

2800 K
Spectrum of our LED at 2800K as red curve shows CRI 90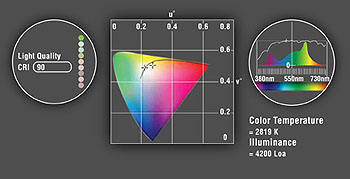 3200 K
Spectrum of our LED at 3200K as red curve shows CRI 90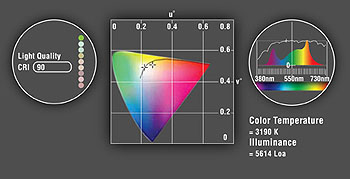 4000 K
Spectrum of our LED at 4000K as red curve shows CRI 90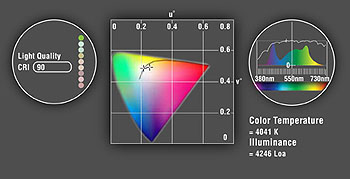 4800 K
Spectrum of our LED at 4800K as red curve shows CRI 90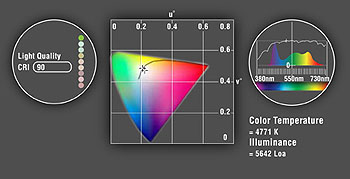 5600 K
Spectrum of our LED at 5600K as red curve shows CRI 90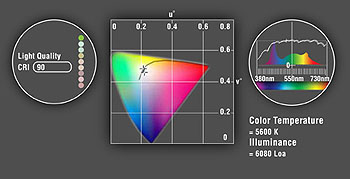 6500 K
Spectrum of our LED at 6500K as red curve shows CRI 90