---
Blackmagic Video Assist 2.4
Welcome to the Blackmagic Video Assist!
This utility updates your Video Assist to the latest software release for new features, bug fixes and other enhancements.

What's new in Blackmagic Video Assist 2.4
Add multiple languages for both the Blackmagic Video Assist and Blackmagic Video Assist 4K
General performance and stability updates

Minimum system requirements for macOS
macOS 10.12 Sierra or later
macOS 10.11 El Capitan
USB 2.0 port for software updates

Minimum system requirements for Windows
Microsoft Windows 10 64-bit
Microsoft Windows 8 64-bit
USB 2.0 port for software updates

Installing Blackmagic Video Assist Utility
Before installing the software, we recommend that you run "Uninstall Video Assist" first.

The Blackmagic Video Assist installer package installs:
Video Assist Utility
---
Blackmagic Video Assist 4K
Blackmagic Video Assist 4K has gained its market share in 4k Recording. Blackmagic Video Assist 4K is one of the most recently released recording solutions by Blackmagic. This recorder is the ultimate affordable 4K recording solution for videographers.

Compact, Portable Video Recording Solution
Blackmagic products have always continued to offer video and audio production solutions for professionals over time. The latest addition to the list of Blackmagic products is the Video Assist 4K, which integrates the latest technology in video recording in a compact and portable camera. The Blackmagic Video Assist 4K has redefined video recording with its capability of recording in some different formats as well as including its professional production monitor. It comes packaged as the best possible accessory that will help you get extra functionality from your digital camera.

With the Blackmagic Video Assist 4K you have the perfect accessory to enhance the performance of your digital camera. The high resolution screen is also larger in size and allows you to focus, frame and capture high quality shots as well as record professional ten bit quality ProRes and DNxHD videos. It makes a perfect accessory to pair with Blackmagic 4K Micro Studio Camera which does not come with recording facility. By adding the Video Assist to the Camera you can now shoot and record professional audios and videos. However if you are wondering if the Blackmagic Video Assist 4K will work equally well with other cameras, rest assured it does. The Video Assist comes equipped with SDI and HDMI ins/outs that make it easy to pair with many different camera systems for high quality professional video productions.

The Blackmagic Video Assist 4K allows on-set monitoring, recording and playback, all in high resolution and using your current equipment. Equipped with advanced shutter technology, Super 35 Sensor, highly flexible and precision mounted EF, the Blackmagic Video Assist comes packed with technologically advanced components that make it one of the leading products in the market professional video and audio production.

One of the many things that make the Blackmagic Video Assist 4K such a good investment are the two Mini XLR inputs, particularly if you shoot videos using a standard DSLR. The main problem while shooting with a DSLR is the poor audio quality due to the less than inadequate input options for audio. The Blackmagic Video Assist allows you to input audio directly into it while piping picture from the DSLR, bypassing audio recording into the DSLR completely. The difference in the quality of audio recording is likely to make you feel like a professional in the business of video recording.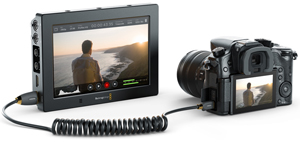 The Blackmagic Video Assist 4K is the best all in one monitoring and recording solution for customers looking to shoot better quality video with any type of camera, loaded as it is with features to serve a wide variety of production purposes. Some of the more notable features include
• Ultra HD and professional audio recording
• Record higher quality images and superior audio with DSLR's
• Add modern file based recording to older cameras
• Simultaneously record files for editorial and RAW files on camera
With the Blackmagic Video Assist, you have all it takes to give your current recording equipment a quick makeover without spending big bucks.
Major new update adds improved DNxHD and DNxHR support, as well as new monitoring options!

Blackmagic Design today announced Video Assist 2.2, a major new update for Blackmagic Video Assist 4K customers that dramatically improves DNxHD and DNxHR support, adds false color monitoring, expanded focus options and new screen rotation features. The Video Assist 2.2 update will be available for download from the Blackmagic Design website next week, free of charge for all Blackmagic Video Assist 4K customers.

Video Assist 2.2 Update will be demonstrated at IBC on the Blackmagic Design booth in Hall 7, Stand 7 H.20.

The new Video Assist 2.2 update lets customers save DNxHD and DNxHR files in MXF containers which improves compatibility with Avid systems running on Windows and removes dependencies on the .mov file format. In addition, customers can now choose between DNxHD 220, 145 and 45 bit rates, or between DNxHR HQ, SQ and LB formats when recording.

The Video Assist 2.2 update also adds false color monitoring exposure tools to the Blackmagic Video Assist 4K. False color exposure tools make it easier to properly set exposure in different parts of the image by highlighting specific color ranges of luminance with a solid color overlay. For example, green indicates neutral grey, while pink tones are good references for skin, which is typically one stop over neutral grey. Using false color helps camera operators keep exposure consistent from shot to shot.

In addition, Video Assist 2.2 update also expands the options for focus assist so customers can now choose whether they want to see red, green, blue, black, white or traditional focus peaking indicators. This makes it easier for customers to accurately adjust focus in a wider range of scenes and under a variety of different lighting conditions. Customers will now also have the ability to manually control the screen orientation and turn off the auto rotate feature which makes it easier for customers to use Blackmagic Video Assist 4K with handheld gimbals and other equipment designed to move the camera and rig simultaneously.

"Customers love the new Blackmagic Video Assist 4K and it has become an indispensable part of every filmmakers toolkit," said Grant Petty, CEO, Blackmagic Design. "This new update is exciting because it gives customers more recording and file compatibility options than ever before, along with some incredible new monitoring tools that will help filmmakers properly expose their shots and focus them more quickly than ever before so they can shoot with confidence!"
---
Overview

For filmmakers and looking to add a professional touch to monitoring and recording by HDMI or SDI camera, the Blackmagic Video Assist 4K provides the ultimate solution. This potable video recorder features Ultra HD recorders (two) that operate at high speed. It also comes with a 7" high-resolution monitor that can be used for framing and checking focus as well as two microphone inputs (XLR) to give the audio recording a touch of professionalism. This model also has an in-built designed speaker.


Main Features

Affordable consumer cameras normally operate in small screens and support poor file formats which old camera versions commonly used a custom file or tape formats. The descriptive features of these two camera models made it hard for them to be used professionally. However, with Blackmagic Video Assist 4K, this problem is solved as it is compatible with all types of cameras including DSLRs and cameras based on old tapes.

It is an inexpensive and applicable solution that comes with two high-speed UHS-II recorders that can work with some popular and readily available SD card brands and are compatible with readily available SD card readers. Broadcast quality files can be saved in DNxHD or ProRes formats and come with a 10- bit 4:2:2video. Users can trigger the Start/Stop of recording using HDMI/SDI or LANC. With the Blackmagic Video Assist 4K, you get uninterrupted recording since recording continues automatically to the next card the moment the first is full.

The 7" high-resolution LCD monitor with a touchscreen that comes with a wide viewing angle of 135° makes this model easy to use. With simple taps and swipes, users can change settings of the monitor, display information about the camera and evaluate video and audio levels of recordings. Customers can also have their eyes on the shot as they view audio meters, histogram and timecode as well as current input frame rates. The camera can be powered with a 12V DC input and has two LP-E6 battery slots. Discharging of batteries happens serially and hence the second battery takes full charge when the first one gets drained.


Other Great Features

The Blackmagic Video Assist 4K monitor comes with an all in one design that makes it easy to mount cameras, hold the monitor using one hand or setting it up on a table with a kickstand. The monitor is great for outdoor and indoor use and is a durable solution.

High-End Features High Screen Resolution - A good screen with a high resolution is important for capturing cinema quality shots. The Video Assist 4K comes with a large sized screen with a high resolution that makes it easier to focus and frame when shooting. If you own a camera that lacks a recording facility such as the Blackmagic 4K Micro Studio Camera, then the Video Assist 4K is a perfect accessory to pair with such types of devices. It will make it possible for you to shoot and record professional videos as well as audio. The best part about Blackmagic Video Assist 4K is that it works equally well with different camera brands that support pairing through SDI/HDMI ins/outs.

Advanced Shutter Technology - The Blackmagic Video Assist 4K comes with an advanced shutter technology that ensures every moment is captured. It also comes with other capabilities such as allowing for on-set recording, monitoring, and playback. The recorder comes equipped with a super 35 Sensor that is firmly mounted to ensure for rigidity. During use, you will find that the camera is flexible enough to be used in both studio and field production.

Advanced Functionalities

Remote Control & Audio Recorder - The Blackmagic Video Assist 4K comes with a number of advanced technical components that enhance its functionality and equally make it an easy to use the recorder. You can control the Video Assist 4K remotely using LANC connection which it is supplied with. It also comes with a 28dBV electrical noise floor which ensures that audio recordings are of the highest possible quality.

Dual Recorders - You can use the Blackmagic Video Assist 4K for recording long or live events non-stop. The recorder integrates dual recorders which ensure there is enough back up just in case on fails. You can also use affordable SD card media with the recorder which allows for high speed, dual UHS-II SDHC recording.

Mini XLR Inputs - You will find the Blackmagic Video Assist 4K to be a good investment especially after learning that it comes with two Mini XLR inputs. This is particularly true if you shoot your videos with a standard DSLR which output poor audio quality. With the Video Assist 4K, you can pip the picture from your DSLR, bypass the audio from the DSLR and input it from your Video Assist 4K recorder. The process is rather easy and will get you feeling like a professional videographer or producer.

Affordable Solution - The Blackmagic 4K camcorder models have become synonymous mainly because of their one attribute; affordability. The Blackmagic Video Assist 4K, which has just been recently released, continues the trend through offering high-end videography solutions at a very competitive price.

Multiple Formats - Videographers will be happy to learn that they can use the Blackmagic Video Assist 4K to record some different formats. Add this to the fact that the recorder is compatible with some different digital camera models and you have a perfect accessory for recording your videos. Visit us today at any of our expandore stores and learn from our experts how you can get the most from your Blackmagic Video Assist 4K and buy one to move your videography experience a level up.