AJA Kona IP Simple, Compatible I/O for IP Pipelines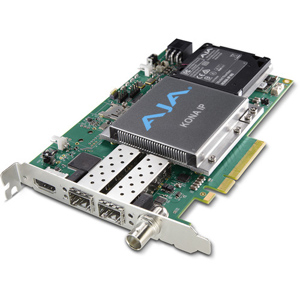 Product Code: KONAIP


Features of Kona IP
KONA IP brings all of the expertise, power, quality and reliability behind the KONA product line, to the world of Video over IP for 4K/UltraHD and 2K/HD workflows.

KONA IP offers a tremendously flexible video and audio I/O platform with support for up to 4K/UltraHD with SMPTE ST 2110, support for up to 2K/HD with 2022-6, the ability to take advantage of 2022-7 redundancy for high availability architectures, and an option for compressed TR-01 JPEG 2000 workflows, KONA IP ensures you have all the tools you need to succeed as the prevalence of video over IP increases.

On the desktop, KONA IP seamlessly supports Apple® FCPX, Adobe® Premiere® Pro CC, Avid® Media Composer®, AJA Control Room and other leading editorial, effects and production tools. For creative users the experience of using favored applications remains unchanged, with some differences only in setting up for capture or output with the same AJA Control Panel creative users are used to.

For developers, the same AJA SDK used for SDI and HDMI devices is also used for KONA IP, meaning zero delay in writing applications and creating systems with this powerful PCIe capture and output card.

And for any critical/enterprise scale media production installations, the additional peace of mind that comes with a 3 year warranty, advance replacement and support via phone is standard with all KONA cards.

Transition Seamlessly
Broadcast IP is here. Transition seamlessly with KONA IP.

KONA IP is designed to fit into either hybrid or all-IP infrastructures, while bridging that familiar KONA experience that professionals rely on for critical work, into Video over IP workflows.

KONA IP offers SMPTE ST 2110, SMPTE 2022-6/7 uncompressed IP video standards, including network redundancy/Hitless Switching for transmission, as well as optional JPEG 2000 support.

Wide Software Compatibility
KONA IP supports leading NLE, Compositing and Streaming applications via our industry best plug-ins, plus the AJA software tools you rely on including AJA Control Room and AJA Control Panel.

KONA IP also includes a Downstream Keyer with support for graphics with alpha channel over video, matte or framebuffer, or framebuffer content over incoming video or matte, perfect for the needs of live IP delivery.

HDMI Monitoring
Aside from the ability to capture and playback uncompressed SDI compliant video, with up to 16 channels of embedded audio and ANC via SMPTE ST 2110, KONA IP also bridges nicely into the creative suite or edit bay with a local HDMI output with 8 channels of embedded audio, and support for HD frame rates up to 60p.

HDR
HDR or High Dynamic Range, provides the ability to display a wider and richer range of colors, much brighter whites, and much deeper, darker blacks than standard signals allow. This gives your imagery a more 'dynamic' look and allows for natural true to life colors to be communicated to your audience.

KONA IP with the latest AJA Desktop Software provides HDMI based HLG, and HDR10 support with HDR Infoframe metadata, for output to compatible displays, in accordance with HDMI 2.0a/CTA-861.3. Check with your software vendor to ensure their application supports this valuable AJA hardware feature.

Throughput
KONA IP supports multiple video over IP workflows using dual 10 GigE SFP cages. Mix and match based upon your project's needs, whether you require 4K/UltraHD 4:2:2 via SMPTE ST 2110-23, or ST 2022-7 redundancy for either ST 2022-6 or ST 2110 workflows with 2K/HD/SD 4:4:4 or 4:2:2 video upon transmission, KONA IP has you covered.

This is complemented by support for 16-Channel embedded audio and local HDMI monitoring.