Modular design for easy integration
The Sony PXW-FS5K is designed to be taken apart quickly and easily, with no need for custom tools. There are also ¼-inch screw holes on handle, top and bottom of the body to support mounting on a drone, gimbal or in a underwater housing. For tripod mounting, there's a 3/8-inch screw hole on the bottom. You can even add the FS7's rosette mount* to securely attach an FS7 arm and compatible third-party accessories.

* Rosette mount component available from Sony service centers.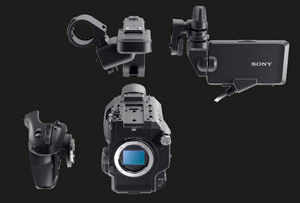 Networked for high mobility
Live stream from any event thanks to a choice of Wi-Fi or built-in wired LAN.
Control PXW-FS5K from your smartphone or tablet.
Built-in NFC supports one-touch authentication possible with appropriate devices
Be first with breaking news thanks to a built-in wired LAN jack for high-speed FTP transfer of full resolution content.

4K Super 35 Exmor® sensor
The Sony PXW-FS5K is built around a high-sensitivity 4K Super35 "Exmor" CMOS Sensor that offers all the benefits of a large format sensor in combination with the exceptional image readout speeds required for 4K motion-picture shooting and Super Slow Motion.
4K resolution 11.6 million total pixels and 8.8 million effective pixels deliver 4K resolution. Even if you're delivering in HD, your recordings will capture detail and image texture that HD sensors simply cannot see.
Super 35 size sensor offers "bokeh," the defocused backgrounds made possible by shallow depth of field, as well as excellent low-light sensitivity and an expansive field of view.
14 stops of exposure latitude deliver powerful grayscale rendition without crushing shadow detail or blowing out highlight detail.
Exceptional sensitivity enables you to shoot well after sunset, without tons of lighting and grip.
Sony's Exmor CMOS design provides high-speed full-pixel read- out capability (without pixel binning) and sophisticated camera processing to ensure jaggies and moiré are minimized.

High Frame Rate (HFR) recording
The Sony PXW-FS5K offers High Frame Rate (HFR) cache recording at Full HD 10bit 4:2:2 image quality and a frame rate of up to 240 fps. The 8-second cache recording means no more mistimed shots leading to extra takes. It also lets you pick out footage at exactly the point that you want. It is also possible to record 120 fps with up to 16-second cache recording. Higher frame rates of 480 fps and 960 fps are also possible a specific resolution.

Built-in electronic Variable ND Filters
The Sony PXW-FS5K is the world's first Super35mm camcorder* with a built-in electronic variable Neutral Density (ND) filter, further expanding the depth of field capability of its large format sensor. Unlike conventional optical ND filters, the electronic ND filter on the Sony PXW-FS5K can be controlled from 1/4ND to 1/128ND linearly. This makes the Sony PXW-FS5K ideal for fast-moving shoots in changeable environments - there's no need to change filters as lighting conditions change and variable control makes it easy to keep depth of field under control.
*Sony market research, September 2015.

Clear Image Zoom
This proprietary Sony technology significantly extends your ability to get closer to a remote scene while preserving image quality. Once you've zoomed in at maximum optical magnification, By Pixel Super Resolution Technology can enlarge the image by additional 200%. It is also compatible with fixed focal length lenses, so you can zoom into a scene while using a prime lens.

Centre Scan Mode
To support traditional Super 16mm cinema lenses, the Sony PXW-FS5K has a Centre Scan Mode which selectively outputs 2160x1080 from the sensor's centre. This gives the Sony PXW-FS5K all the characteristics of a Super 16mm film camera and avoids any vignetting. The Sony PXW-FS5K also offers a 2X Digital Extender zoom – effectively doubling your range for HD content.
Accurate OLED viewfinder
PXW-FS5K has high quality 0.39-inch OLED viewfinder is perfectly offset for right-eye or left-eye viewing OLED's superb accuracy, high contrast and high resolution (1,440K dot) enables precise manual focus and eliminates any color-breaking phenomenon.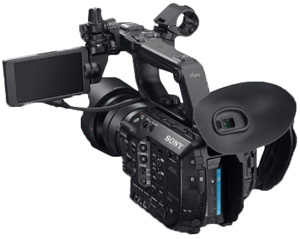 Dual media slots with independent record control
To extend recording time and workflow flexibility, the Sony PXW-FS5K is equipped with two memory card slots. "RELAY" mode automatically switches recording from the first to the second memory card when the first is full, while "SIMUL" mode permits simultaneous recording to two memory cards (for example to create an immediate back-up version). The FS5's three Start/Stop buttons on the grip, handle and camcorder body, can independently start and stop recording on different memory cards while recording in "SIMUL" mode.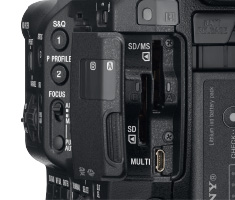 Multi-Interface (MI) Shoe
The Sony PXW-FS5K takes advantage of Sony's flexible Multi-Interface (MI) Shoe, which provides power, signal connections and coordinated on/off switching to compatible Sony accessories. For example, you can connect and control Sony wireless microphone systems such as the UWP-D11 or UWP-D12 or attach the HVL-LBPC light.*

*Accessories sold separately. HVL-LBPC light does not draw power from Sony PXW-FS5K.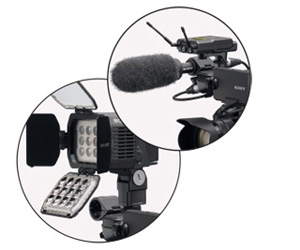 Dual XLR inputs
The Sony PXW-FS5K has two XLR connecters – so even if you remove the handle with its standard, easy-access XLR connector then a second on the body is still available, making it ideal for applications such as shooting in a confined space, such as a car interior, or when mounting on a gimbal.