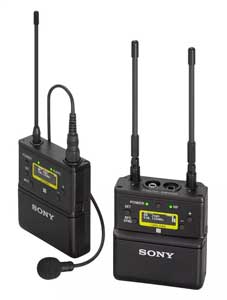 Sony UWP-D21 Body pack transmitter, Absolute clarity. New UWP-D Series
Revitalized from its predecessor UWP-D11, the Sony UWP-D21 professional wireless audio transmission system is the ultimate choice when the highest quality sound and seamless integration with their Sony camcorders are the most important factors. If you are a previous user of UWP-D11, the UWP-D21will offer you an even greater experience with many unique functions and features With Sony's advanced digital audio processing technology, your audio will sound crystal clear and professional, providing you with peace of mind that your recordings will be of the highest quality. Setting up the system is a breeze, thanks to its NFC SYNC function. With just a simple tap, you can quickly and securely set up your channels, and even IR sync capability with the UTX-B40 transmitter from the URX-P03, URX-P03D, and URX-S03D receivers. The true double tuner diversity of the UWP-D21 ensures stable signal reception, and the auto gain mode volume control ensures that your audio will always sound its best. The +15 dB gain volume boost mode is perfect for those times when you need to capture off-mic audio, and the line input allows you to connect a variety of audio devices.

The channel memory function makes it easy to switch between your TX and receiver frequencies, allowing you to match multiple receivers to one transmitter with ease. This feature enables you to switch the camera's angle together with the wireless audio without the need to redeploy the receiver. Unlike others, there is a headphone output and monitor mode on the device allowing you to monitor your audio, and the variable muting function gives you even more control. The UWP-D21 is compatible with Sony's WL-800/UWP/UWP-D series, ensuring that you'll always be ready for any situation.

The receiver output level control and high visibility OLED display make it easy to keep an eye on everything, even in low-light conditions. The USB connector for power supply and digital audio interface support with the SMAD-P5 Multi-Interface (MI) Shoe Adaptor (optional) make the UWP-D21 a true powerhouse of a wireless audio transmission system.

But what sets the UWP-D21 apart from other wireless audio transmission systems is its seamless camcorder integration. With integration with compatible Sony camcorders (requires SMAD-P5 Multi-Interface shoe adaptor), you can see important audio information, such as RF level meter, audio mute status, and transmitter low battery alert, in your camera's viewfinder. This makes it easier than ever to monitor your audio, ensuring that you're always recording at your best.

The SMAD-P5 allows you to transmit audio signals from your receiver to your camera without the need for a cable connection. This provides greater flexibility and mobility, allowing you to move around freely without worrying about being tethered to your camera. The wireless receiver can also receive power from your camera, and the synchronized power on/off between your camera and receiver makes it easier than ever to manage your power effectively.

In conclusion, the Sony UWP-D21 professional wireless audio transmission system is the perfect choice for anyone who demands the highest quality sound and seamless integration with their camcorder. With its advanced digital audio processing technology, quick and easy set up, stable signal reception, and seamless camcorder integration, you can be confident that your audio will sound its best, no matter what situation you find yourself in. So why wait? Invest in the Sony UWP-D21 and take your audio to the next level!
Q&A
Q: How can I confirm the Serial number for UWP-D21 TX - UTX-B40
A: You have to enter the Test model as per following instructions
1. Turn on the power of the unit
2. Move " MENU" to "VERSION".
3. Hold down the [SET] button for one second or more and within three second
4. Press [+], [-],and [+] buttons sequentially - when doing so there must be no interval in between
5. Hold down [-] button for two two seconds or more.