Overview
The AW-HE120 delivers the highest image quality of any integrated pan/tilt/zoom camera. Featuring a fast 20X zoom lens and a three 2.2 megapixel U.L.T. MOS imagers supporting Full HD video capture, the compact HE120 produces excellent video in a wide range of shooting conditions.

Ideally suited for such demanding applications as sports, staging, House of Worship, news and government video, the HE120 is equipped with the same high-performance sensors and digital signal processing used in Panasonic broadcast camcorders such as the AG-HPX370. With a 1000 TV lines of resolution and a 60dB signal-to-noise ratio, the HE120 sets a new performance standard for integrated PTZ cameras, with advanced features as 16-axis color correction and Panasonic's exclusive DRS (Dynamic Range Stretch). HD-SD/SDI, HDMI, Analog Component, and SD Composite outputs are all built-in, for out-of-the-box ease of deployment.

The camera's 20X optical zoom lens covers an extended range of shooting situations, from small room wide-angle to back of the house ultra-telephoto, with 35mm equivalents of 32.1 mm at wide-angle to 642.5 mm at telephoto. Remote controlled neutral density filters, DRS, shutter, and other functions enable optimal exposure for a wide range of shooting conditions. The camera's fast, quiet integrated pan-tilt head covers a wide range of motion, with a pan range of ±175° and a tilt of -30° to 210°.

The HE120 supports both RS-422 serial control and IP control with dedicated RJ-45 connectors. It is compatible with current Panasonic controllers such as the AW-RP655 and AW-HS50, and with many serial and IP control systems from Crestron, AMX and other vendors.

The HE120 supports both direct and Web-based IP remote control, so the camera can be securely operated and adjusted remotely from an ordinary browser-equipped PC—anywhere in the world.

Features include:
• HD/SD-SDI and HDMI outputs are standard as well as analog component and SD composite
• Supports international HD and SD video signal formats including: 1080/59.94p (HDMI only), 1080/59.94i, 720/59.94p, 480/59.94p (HDMI only), 480/59.94i, 1080/50p (HDMI only), 1080/50i, 720/50p, 575/50p (HDMI only) and 576/50i
• Weighs just 6.6lbs and consumes just 21 Watts at 12V DC (power supply included
• Available in two colors (HE120W: pearl white; and HE120K: black matte metallic) to suit a range of installation venues.
• Built-in remote-controllable, four-position ND filter (clear, 1/4, 1/16, 1/64) facilitates flexible exposure control in brightly lit shooting situations
• Newly-developed pan-tilt mechanism combines a high level of responsiveness with static precision. A low NC (Noise Criteria) level of 35 is maintained for shooting in noise sensitive environments such as jazz clubs and boardrooms.
• Up to 100 preset positions and camera settings are stored in the camera, perfect for the most demanding large venue installation
• A twist-lock ceiling mount is included as a standard accessory, and the HE120 also equipped with a 1/4-20 tripod mounting screw receptacle and a safety lanyard for use with many tripod mounting and grip systems.

Features
Integrated Pan-tilt camera with a compact body and simple system configuration
Both SDI and HDMI are supported, and IP connection enables flexible system configuration, easy connection and settings. It can also be connected to current camera controllers. Both size and weight have been reduced by approximately 60 % compared to our previous model (the AW-HE100) to achieve a lightweight, compact body. With its sleek design and color variation, it blends with atmospheres in a variety of situations.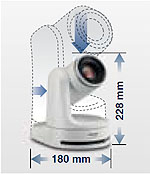 Shooting high-quality images with 1/3 type Full-HD "U.L.T." 3MOS image sensors
High resolution and high image quality are produced by the newly developed 1/3 type 2.2 mega pixels "U.L.T." 3MOS sensors and digital signal processor (DSP).

The 3MOS System uses three MOS sensors to process the three primary colors (R, G, B) of light. (MOS = Metal Oxide Semiconductor)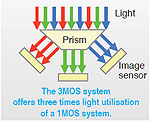 A 20x optical zoom lens covers wide-angle to ultra telephoto shots.
In addition to a wide-angle design that features 32.13 mm (35 mm equivalent) at the wide end, the AW-HE120 has a 20x optical zoom lens and a 10x digital zoom power. This lets you shoot a wide variety of sharp and crisp images from wide angle to close up.


A wide range pan-tilt, high-speed control, and silent design apply for versatile operations
More smooth and natural movement is achieved for the pan-tilt operation. The pan-tilt head also allows a wide range* shooting, with a pan range of ±175 ° and a tilt range of -30 ° to 210 °. The newly developed pan tilt drive provides high-speed operation at maximum 60 °/s, excellent response from remote control operation, and highly precise stop control. These features combine to accurately capture fast-action sports scenes with comfortable remote shooting. The noise level during operation is also very low, at NC35 or less, which is ideal for shooting in concert halls

IP control provides easy connection and settings for comfortable camera control
Up to 100 x AW-HE120WP/WE/KP/KE units can be controlled from the AW-RP50N/E or a PC through a switching hub using the IP connection. IP connection also allows one AW-HE120WP/WE/KP/KE to be controlled simultaneously from up to five AW-RP50N/E units.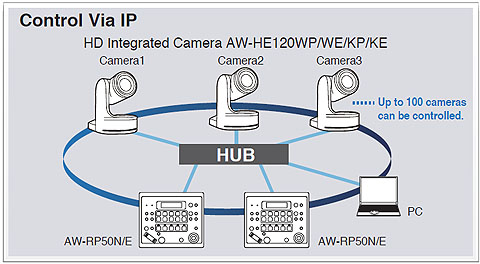 Dynamic Range Strech (DRS) automatically optimizes images that have a wide contrast range.
A gamma curve and knee slope are estimated to match the contrast of each pixel in real time. When dark, bright, and intermediate areas are all contained in the same scene, this function produces excellent gradation for each area and minimizes blocked shadows and blown highlights. The images of results are enhanced by a visually wider dynamic range.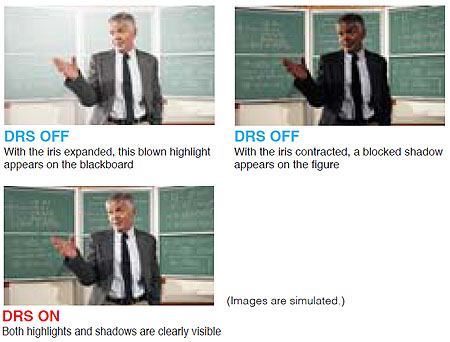 Other features
Setting camera menus with a PC
Camera menus can be set up via a web browser by connecting the AW-HE120WP/WE/KP/KE to a PC.

Simple connection and installation enable a flexible camera layout
IP control, a lightweight body, and the turn-lock mounting mechanism enable easy connection and mounting by a single person (indoor mounting only).

Wireless remote controller for easy operation (option)
Up to 4 cameras can be controlled by an optional wireless remote controller (AW-RM50G). The basic operations and menu settings can be done by using the wireless remote controller.

Compact design for energy-saving
The compact, lightweight body realizes low power consumption and low cost operation of multiple cameras.

Allows up to 100 pre-set memories per camera
Four-position (Through, 1/4, 1/16, 1/64) ND filter

Specifications
General
Power Requirements
DC 5.0 V (AC adaptor supplied)
Power Consumption
3.6 W
Operating Temperature
0°C to 40°C (32°F to 104°F)
Allowable Humidity Range
-10 % to 80 % (no condensation)
Storage Temperature
-10°C to 60°C (14°F to 140°F)
Storage Humidity Range
0 % to 90 % (no condensation)
Weight
Approx.0.244 kg (Approx.0.538 lbs)
Dimensions (W × H × D)
80 mm x 118 mm x 138 mm
(3-5/32 inches x 4-5/8 inches x 5-7/16 inches)
Camera
Image Sensors
1/4.37 type MOS
Effective pixels: Motion picture Approx.3.9 mega pixels
Lens
iA Approx.2x zoom, Digital Approx.4x zoom
F2.0 (f=2.15 mm, 35 mm equivalent: 18 mm)
Field of view: 95°(horizontal), 56°(vertical)
Minimum focus distance: Approx.80 cm (25℃/77°F)
Standard Illumination
1 400 lx
Minimum Illumination
20 lx (1/60 in Auto mode)(AW-HE2P),
20 lx (1/50 in Auto mode)(AW-HE2E)
Horizontal Resolution
850 TV line Typ (Center area)
Electronic Shutter Speed
1/60 to 1/12000 (AW-HE2P),
1/50 to 1/12000 (AW-HE2E)
White Balance
ATW, AWB A, AWB B, Sunny, Cloudy,
Indoor1, Indoor2, Fluorescent(TTL type)
Output Format
HD
1080/59.94p, 1080/59.94i, 1080/50p,
1080/50i, 720/59.94p, 720/50p
SD
576/50p, 480/59.94p
Synchronization System
Internal synchronization
Video Output Connector
HDMI x 1
Audio Output Connector
HDMI x 1, Linear PCM
Network
10BASE-T, 100BASE-TX, RJ-45
Automatic recognition of straight/crossover cable
Network output image: JPEG, 640x480 (640x360) or 320x240 (320x180),
up to 30fps (16:9 video is transmitted in the Letter Box format).
USB
Micro-B terminal x 1, Power supply function
(power supplied from the USB terminal when
there is no power provided from DC input terminal)
Microphone
2 ch stereo
Pan-Tilt Mechanism
Panning Range
Approx. ±23°[iA Approx.2x zoom]
Approx. ±35°[Digital Approx.4x zoom]
Tilting Range
Approx. ±14°[iA Approx.2x zoom]
Approx. ±21°[Digital Approx.4x zoom]
Standard Accessories
Standard Accessories
CD-ROM (Operating Instructions Basics, Operations and Setting),
Drop-prevention wire, Drop-prevention wire mounting screw
(with washer) M4 x 20 mm, pedestal, pedestal cover,
pedestal mounting screws M4 x 20 mm,
Cable Ties, Power cable, AC adaptor