AG-AF102EN MICRO 4/3 AVCCAM HD VIDEO CAMERA
(Discontinued)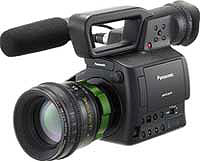 Product Code : AGAF102EN
Note : Lens and Microphone are not inclusive in the standard offer
Discontinued
The Professional HD camera recorder with a Micro Four Thirds mount*1 unleashes creativity in motion picture production.
The imaging area of the camera recorder is almost the same as that of 35mm cinema film and enables an exquisite film-like shallow depth of field. The short flange back distance of the Micro Four Thirds Mount allows the use of a wide range of lenses, including cinema lenses. In the AG-AF102 Series, Panasonic has brought shallow depth of field control to a professional AVCCAM camera recorder. The AG-AF102 Series offers high image quality, including 1080/60p and 1080/50p, with extended recording time, a variable frame rate function, and an operating system and system interfaces designed natively for video production. This lets the AG-AF102 Series record highquality images with greater operating ease than even a digital SLR camera can offer. Let the AG-AF102 Series unleash your creativity.

The Micro Four Thirds System provides Rich Expression with a Wealth of Interchangeable Lenses
The 4/3-type image sensor has about the same imaging area as that of 35mm cinema film and achieves stunning, film-like images. The short flange back distance enables the use of a wealth of interchangeable lenses, including cinema lenses.*
In addition, the AG-AF102 Series features high-performance image processing and correction functions designed exclusively for HD motion images.

AVCCAM - Functions & Specifications Refined through Extensive Professional Video Use
The AVCCAM HD recorder section has been improved and refined through extensive use in broadcasting and movie production. The AG-AF102 Series combines superb image quality, including 1080/60p and 1080/50p, extended recording time, a variable frame rate function like the VariCam, and the operating ease and mobility that you need for motion image acquisition.

Adopt Micro Four Thirds

The AG-AF102 Series adopts the Micro Four Thirds standards. These standards were announced in 2008 as an extension of the Four Thirds standards for DSLR (Digital Single Lens Reflex) cameras. Panasonic and some other manufactures have already released a number of digital cameras and interchangeable lenses based on the Micro Fourth Thirds standards.
The "Four Thirds" name is derived from the 4/3-type (approx. 17.3 mm x 13 mm/ approx. 0.68 inches x 0.51 inches) image sensor. The size of the image sensor, the standardized lens mount developed for it, and interchangeable lenses designed exclusively for digital cameras form the core of the Four Thirds standards. These standards were established to offer an optimal solution for digital cameras, breaking loose the confines of film camera standards. In establishing the Micro Four Thirds standards, the flange back distance (the distance from the lens mount surface to the image sensor) was reduced by about half and the mount diameter was made about 6 mm (0.24 inches) smaller than that of the Four Thirds mount. The image sensor size is the same as that of the 4/3 type used in the Four Thirds standard. The Micro Four Thirds standards have made it possible to reduce the size and weight of cameras and lenses, and to achieve greater interchangeability of lenses together with video recording capability

4/3-type MOS Image Sensor

The 4/3-type MOS image sensor in the AG-AF102 Series has about the same imaging area* as that of 35mm cinema film. The depth of field and the focal range are also close to those of film cameras. With the AG-AF102 Series, you can record beautiful, shallow depth of field, film-like images. The MOS sensor has two control lines as compared to the three lines required by a conventional CMOS sensor, thus providing a larger light receiving area. This has achieved a high level of sensitivity rivaling that of a CCD sensor. Extensive noise reduction measures are also employed, such as embedded photodiodes isolated from noise sources and low-voltage operation. By guiding more light to the pixels, the AG-AF102 Series achieves a wide dynamic range and detailed gradation with minimal blocked shadows or blown highlights in high-contrast scenes, for true-to-life textures and rich colors.

* The effective imaging area is trimmed to a 16:9 aspect ratio.

High-Performance 18 bit DSP

The AG-AF102 Series is equipped with a high-performance 18 bit digital signal processor (DSP) for image processing. Optimized for HD video recording, the DSP handles various image rendering processes, such as dynamic range stretch (DRS), gamma, 12-axis independent color correction* and detail enhancement, as well as conversion to HD/ SD video formats − all with exceptional precision and high image quality.

* 12-axis independent color correction can't be controlled manually by a customer.

A Low-Pass Filter for High-Quality HD Motion Images

The AG-AF102 Series' optical low-pass filter is optimized for HD motion images and reduces the aliasing noise that often occurs in motion images captured by an image sensor with a high pixel density. In addition, the MOS image sensor is scanned at a high speed in order to minimize skew distortion


Internal Optical ND Filter

The AG-AF102 Series has an internal neutral density (ND) filter that is essential for video recording. The dedicated dial on the camera body lets you adjust the setting in three steps (1/4ND, 1/16ND, and 1/64ND) with any type of lenses.

Dynamic Range Stretch Function

DRS recognizes the average brightness of highlight and shadow areas and then automatically adjusts the aperture and uses knee control to suppress blocking in the shadow areas. In scenes with mixed dark and light areas, DRS automatically provides a wider dynamic range with minimal blown highlights and blocked shadows.

7-Mode Gamma for Richer Gradation

Drawing on technologies developed for the VariCam, Panasonic has equipped the AG-AF102 Series with advanced gamma functions that address seven different shooting scenarios and enhance your creative abilities. This includes the cinelike gamma, which produces the characteristic warm tone of film recordings.

Advanced Image Adjustments

• Color setting with matrix table: Norm1, Norm 2, Fluo and Cine-Like.
• Adjustable H detail level, V detail level, detail coring and skin detail.
• Adjustable chroma level, chroma phase and master pedestal.
• Adjustable color temp: 2400K to 9900K (preset 3200K/5600K).
• Knee point settings: Auto, Low, Mid and High.
• Adjustable auto-iris level.


FILM CAM Mode for Movie Production

The AG-AF102 Series features switchable FILM CAM and VIDEO CAM modes. In FILM CAM mode, the variable frame rate can be used. In addition, the synchro scan and shutter can be indicated and set with the opening angle, instead of seconds, while the sensitivity can be indicated and set in ISO, instead of dB. This makes operation easier for users who are familiar with film camera operation.



Area Focusing and Area Iris Functions (Compatible lens only)

Using the function knob (cursor key), you can select a desired area in the frame and set it as a target zone for focusing, iris adjustment and YGET (brightness measurement). This function facilitates the recording of images in which the subject is not in the center of the frame. In addition to the above three modes, there are two other modes: simultaneous focusing/iris adjustment and simultaneous focusing/ YGET. You can select and set any of these five modes.



Versatile Focus Assist Function
The AG-AF102 Series is equipped with HD focus assist functions. The focus bar indicates the focus level, the focus-in-red display shows the focus area, and the expand function enlarges the center of the displayed image. These three display functions help you to focus more smoothly. A face detection function is also provided, and area auto focus and area auto iris are possible

Wide ISO Sensitivity (Gain) Setting Range

The sensitivity can be set between ISO 200 and ISO 3200 (in FILM CAM mode), or the gain can be adjusted between 18 dB and -6 dB (in VIDEO CAM mode). The 3-position (L, M, H) gain switch can be assigned with three desired settings for quick switching. The negative gain (-3 dB, -6 dB) is effective for reducing sensitivity and reducing noise.

Slow/Synchro/High-speed Shutter

The shutter speed can be set from a slow 1/2 sec to a fast 1/2000 sec in VIDEO CAM mode. The AG-AF100A Series is also equipped with a synchro scan function to allow setting from 10° to 360° in 0.5° steps (including 172.8°) in FILM CAM mode. When combined with the variable frame rate, this function enables detailed settings for a blurred or time-lapse effect.

Simplified Waveform and Vectorscope Display

The AG-AF102 Series has waveform and vectorscope display functions as well. A single touch of the WFM key displays the waveform or vectors of the captured video signal on the LCD monitor.


Large Viewfinder and LCD Monitor

The large, high-quality viewfinder (11.43 mm (0.45 inches), approx. 1,226,000-dot equivalent [852 x 480 x 3 (RGB)]) can be tilted up to a 90° angle. The variable angle color monitor features a color LCD panel (87.63 mm (3.45 inches), approx. 921,000 dots [1920 x 480]) with an aspect ratio of 16:9, and facilitates low-angle/ high-angle shooting, viewing and menu setting.

Professional System Design

• Grip: The large grip is easy to hold and is also detachable. The grip allows comfortable use in any shooting situation.
• Handle: The large handle is designed for professional use. It has a shoe adaptor and threaded holes for mounting various peripheral accessories. The handle is also detachable.
• Sensor marker/measuring hook: This makes it easy to measure the distance from the subject.

Functions and Specifications Designed for Professional Use

• Scene file: Saves six sets of camera settings and allows for a quick change of settings.
• Mode check: Displays a list of the camera settings on the viewfinder and monitor.
• Zebra: Select any two levels from among 50% to 105%, in 5% steps.
• Color bar: Outputs a color bar signal.
• Remote terminal: Enables remote operation of iris, focus, Rec Start/Stop and index functions.
• USB 2.0: Type mini-B USB port for connection of a PC in DEVICE mode.
• Tally lamps: Provided on the unit's front and rear.
Power Supply:

DC 7.2 V (when the battery is used)
DC 7.3 V (when the AC adaptor is used)

Power Consumption:

12.4 W (when recording)

Operating Temperature:

0 °C to 40 °C (32 °F to 104 °F)

Operating Humidity:

10 % to 80 % (No condensation)

Weight:

Approx. 1.3 kg (Approx. 2.9 lb.)
(Excluding the handle, grip, battery and accessories)

Dimensions (W x H x D):

163.4 mm × 195 mm × 290.4 mm
(6-7/16 inches × 7-11/16 inches × 11-7/16 inches)
(Including the handle and grip)

Pick-up Device:

4/3 MOS fixed pickup device, single panel (primary color filter)

Picture Elements:

Effective picture elements: Approx. 12,400,000 pixels
Single panel (16:9)

Lens:

Not included

Lens Mount:

Micro Four Thirds system Lens mount

ND Filter:

Clear, 1/4, 1/16, 1/64

Gain Settings:

[VIDEO CAM mode] -6dB to 18dB (3dB step)
[FILM CAM mode] ISO200 to ISO3200

Color Temperature settings:

ATW, ATW LOCK, preset 3200K, preset 5600K, preset VAR, Ach, Bch

Shutter Speed (Preset):

[59.94 Hz]
60i/p mode: 1/60 sec. 1/100 sec., 1/120 sec., 1/500 sec.,1/1000 sec., 1/2000 sec.
30p mode: 1/30 sec., 1/50 sec., 1/60 sec., 1/120 sec., 1/250 sec., 1/500 sec., 1/1000 sec., 1/2000 sec.
24p mode: 1/24 sec., 1/50 sec., 1/60 sec., 1/120 sec., 1/250 sec., 1/500 sec., 1/1000 sec., 1/2000 sec.
[50 Hz]
50i/p mode: 1/50 sec., 1/60 sec., 1/120 sec., 1/250 sec., 1/500 sec., 1/1000 sec., 1/2000 sec.
25p mode: 1/25 sec., 1/50 sec., 1/60 sec., 1/120 sec., 1/250 sec., 1/500 sec., 1/1000 sec., 1/2000 sec.

Shutter Speed (Syncro Scan):

[VIDEO CAM mode/ 59.94 Hz]
60i/p mode: 1/60.0 sec. to 1/250.6 sec.
30p mode: 1/30.0 sec. to 1/250.6 sec.
24p mode: 1/24.0 sec. to 1/250.6 sec.
[VIDEO CAM mode/ 50 Hz]
50i/p mode: 1/50.0 sec. to 1/250.0 sec.
25p mode: 1/25.0 sec. to 1/250.0 sec.
[FILM CAM mode]
10.0 d to 180.0 d to 360.0 d (0.5 d step)
Shutter Speed:
(Slow) VIDEO CAM mode only
[59.94 Hz]
60i/p mode:1/2 sec., 1/4 sec., 1/8 sec., 1/15 sec., 1/30 sec.
30p mode:1/2 sec., 1/4 sec., 1/8 sec., 1/15 sec.
24p mode:1/2 sec., 1/3 sec., 1/6 sec., 1/12 sec.
[50 Hz]
50i/p mode: 1/2 sec., 1/3 sec., 1/6 sec., 1/12 sec., 1/25 sec.
25p mode:1/2 sec., 1/3 sec., 1/6 sec., 1/12 sec.

Normal Sensitivity:

F8.0 normal (2000lx, 3200K, 89.9% reflex, 1080 59.94i)

Horizontal Resolution:

800 TV lines (at center standard)

Recording Format:

AVCHD ver.2.0 (MPEG-4 AVC/H.264/AVCHD Progressive)

Recording Media*:

SD Memory Card: Up to 512MB, 1 GB, 2 GB (FAT12, FAT16)
SDHC Memory Card: 4 GB, 6 GB, 8 GB, 12 GB, 16 GB, 32 GB (FAT32)
SDXC Memory Card : 48 GB, 64GB (exFAT)
*However, above Class4 is supported in PH and HA modes, and above Class6 is supported at VFR recording and in PS mode.

Recordíng Format:

[59.94 Hz] PS mode: 1080/59.94p,
PH mode: 1080/59.94i, 1080/29.97p, 1080/23.98p,
720/59.94p, 720/29.97p, 720/23.98p
HA/HE mode: 1080/59.94i
[50 Hz] PS mode: 1080/50p,
PH mode: 1080/50i, 1080/25p, 720/50p, 720/25p,
HA/HE mode: 1080/50i

Transmission Rate:

PS mode: Approx. 25 Mbps (VBR)
PH mode: Approx. 21 Mbps (VBR)
HA mode: Approx. 17 Mbps (VBR)
HE mode: Approx. 6 Mbps (VBR)

Recording Time:

Approx. 12 hours (PH mode 1920 x 1080 or 1280 x 720 with two 64GB SDXC memory cards)

Interval Recording:

Off/1 sec. /10 sec. /30 sec. /1 min. /2 min.
*Recording mode is fixed to PH 1080/24p (59.94 Hz) and PH 1080/25p (50 Hz) and the maximum shooting time is 24 hours.

VFR Recording:

[1080/24p, 30p] 12/15/18/20/21/22/24/25/26/
27/28/30/32/34/36/40/44/48/54/60 frame/sec.
[1080/25p] 12/15/18/20/21/22/23/24/25/26/
27/28/30/32/34/37/42/45/48/50 frame/sec.

SDI (HD/SD):

BNC x 1, 0.8 V [p-p], 75Ω
[59.94 Hz] 1080/60i, 1080/24PsF, 720/60p, 480/60i
[50 Hz] 1080/50i, 720/50p, 576/50i

HDMI:

HDMI x 1, (HDMI TypeA terminal), VIERA Link not supported
[59.94 Hz] 1080/60p, 1080/60i, 720/60p, 480/60p
[50 Hz] 1080/50p, 1080/50i, 720/50p, 576/50p

VIDEO:

RCA pin jack, 1.0 V [p-p], 75Ω
[59.94 Hz] 480/60i [50 Hz] 576/50i

Recordiņg Format:

PS/PH mode: Dolby Digital/2ch, linear PCM digital/2ch switch
HA/HE mode: Dolby Digital/2ch

Sampling Frequency:

48 kHz

Encoding:

16 bit

Compressed Bit Rate:

Dolby Digital: PS/PH mode: 384 kbps, HA/HE mode: 256 kbps

Built-in Microphone:

Stereo microphone

Audio Input:

XLR (3 pin) x 2 (INPUT 1, INPUT 2)
LINE/MIC selectable, high impedance
LINE: 0 dBu, MIC: -50 dBu/-60 dBu (menu selectable)

AUDIO Output:

RCA pin jack × 2 (CH1, CH2), 316 mV, 600 Ω

SDI Output:

2ch (linear PCM)

HDMI Output:

2ch (linear PCM)/5.1ch (Dolby Digital)

Headphone:

3.5mm diameter, stereo mini jack × 1

Speaker:

20 mm (round) × 1

Camera Remote:

Super mini jack (2.5 mm diameter) (S/S)
Mini jack (3.5 mm diameter) (FOCUS, IRIS)

INDEX Remote:

Super mini jack (2.5mm diameter)

TC PRESET IN/OUT (also used for VIDEO OUT):

IN: 1.0 V to 4.0 V [p-p], 10 KΩ
OUT: 2.0 V ±0.5 V [p-p], low impedance

USB:

Card reader function (no copyright protection support)
Type mini B connector (compliant with USB ver. 2.0)

LCD Monitor:

3.45 type, wide LCD color monitor (Approx. 920,000 dots)

Viewfinder:

wide 0.45 type LCD color monitor
(Approx. 1,226,000 dots equivalent)

Standard Accessories:

Battery, AC adaptor/Battery charger, AC power supply cable/DC cable,
Wireless remote control and battery, Eye cup, Microphone holder,
Microphone holder screws, Microphone holder adaptor, Cable clamper.
Screws for cable clamper, Manuals, CD-ROM