---
7% Goods Service Tax (GST) will be imposed over the total invoice value if purchased locally in Singapore. However if you are a tourist visiting Singapore, this GST amount can be refunded at the Changi International Airport Departure Hall / Seletar Airport Passenger Terminal / Marina Bay Cruise Centre Singapore/ International Passenger Terminal at Harbourfront Centre GST Refund Centre before departure with goods within 2 months from the date of purchase. Please note that only Tourists who have met the Tourist Refund Scheme's conditions and eligibility criteria can claim for the GST refund. Please visit: https://www.iras.gov.sg/IRASHome/GST/Consumers/Tourist-Refund-Scheme/ for GST Guide for Visitors on Tourist Refund Scheme.
Datavideo MS-3000 HD/SD 16 Channel Mobile Video Studio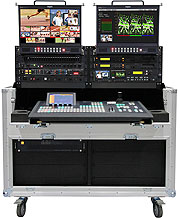 Product Code: MS3000
| | |
| --- | --- |
| MS-3000PPU-16 HD/SDI/INPUT | |
| MS-3000PPU-8 HD/SDI/INPUT | |

MS-3000 Overview:
Datavideo MS-3000 instantly transforms any space into a complete live recording studio. As a powerful PPU (portable production unit) it is ideal for fast-turnaround productions. MS-3000 can be used in a dedicated facility, ad hoc studio or in a van.

With high strength wheels, it can quickly roll into a vehicle for easy transportation.

In an easy-to-use configuration, MS-3000 houses a production switcher that supports up to 16 HD/SDI, 10 bit 4:2:2 video inputs, together with flip-out monitors, hard drive video recorders, intercom systems, video test and measurement devices and much more. All are enclosed in a 16U moveable flight case providing secure protection on the move.

The MS-3000 is truly plug-and-play, saving time and effort setting up, a video production console for live concerts, live events, sports and conferences.
Features of MS-3000:
• Complete live and recording production unit
• Convert a van into an OB truck
• Instantly turn a room into a studio
• 16 / 8 Channel HD mixer (SE-3000)
• Select Datavideo modules of your choice, including data recorders, flip-out HD monitors, test and measurement appliances, Intercom systems, multi-camera controller, audio delay box... and much more
What's in the box:
• SE-3000 16 Input SD/HD Vision Mixer / Switcher
• 2 x TLM-170H 17.3" Monitor for Multi-Image display of Inputs/Next Source & Master Output
• ITC-100 8 Channel Intercom/Talk-Back System (inc 4x ITC-100 SL Belt Packs & 20m Cables)
• PD-2A & PD-3 Power Distribution Systems - Distributes power to all equipment via single AC Connection
• 2 x HDR-70 Hard Drive Recorder (0TB) - Requires HDD
• AD-100 Audio Delay Box and AM-100 Audio Mixer
• VSM-100 Monitoring Vectorscope
• MCU-200 Camera Control Unit
• Fully wired internally with patch bays on the rear for quick & easy installation
• Installed, Configured, Set-up & tested in a Heavy Duty Wheeled Flight Case