---
7% Goods Service Tax (GST) will be imposed over the total invoice value if purchased locally in Singapore. However if you are a tourist visiting Singapore, this GST amount can be refunded at the Changi International Airport Departure Hall / Seletar Airport Passenger Terminal / Marina Bay Cruise Centre Singapore/ International Passenger Terminal at Harbourfront Centre GST Refund Centre before departure with goods within 2 months from the date of purchase. Please note that only Tourists who have met the Tourist Refund Scheme's conditions and eligibility criteria can claim for the GST refund. Please visit: https://www.iras.gov.sg/IRASHome/GST/Consumers/Tourist-Refund-Scheme/ for GST Guide for Visitors on Tourist Refund Scheme.
Datavideo HDR-60 HD/SD Digital Video Recorder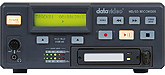 Product Code: HDR60


Note : Our offer come with 2 x 500GB HDD and 2 x enclosure

HDR-60 Overview:
The Datavideo HDR-60 is a hard drive based video recorder, with removable hard drive enclosure, designed for studio desktop applications.

The HDR-60 records from both High and Standard Definition video equipment via HD/SD-SDI. The HDR-60 comes with a removable hard drive enclosure. Additional enclosures are also available and the HDR-60 is compatible with SSD drives.

Once you have completed your recording, simply eject the hard drive enclosure and use USB 2.0 to connect to a PC or MAC based NLE system. The USB port provides power to the unit. It's perfect for use with laptops in the field. You can work directly from the removable drive, or copy video files to your NLE's video drives.

Features of HDR60:
• 1080p Recording - HDR-60 can record in 1080p, as well as 1080i, 720p, 576i, and 480i.
• Accidental Power-Off Protection - In the case of an accidental power-off, like a blackout, the recorded file will still be saved, minus 2 seconds at the end of the file.
• NTFS - HDR-60 uses the NTFS file system.
• On the Fly - Media files are made on the fly with the HDR-60.
• Time Code - HDR-60 has time code input and output.
• Gen-Lock - HDR-60 features gen-lock input and pass-through.
• Locking Power Connector - Locking connectors keep the power plug securely attached.
• Power-On Features - HDR-60 has Power-On Record and Power-On Play.
• Timelapse Recording - HDR-60 is able to do timelapse recording.
• Ref-In - HDR-60 has Ref-in/loop-through, Black Burst, and Tri-level Signal.