Take SDI converters wherever you need to work!
Featuring a built-in rechargeable battery, Battery Converters are amazingly versatile and let you work on location without external power! Now you can get the highest quality 3 Gb/s SDI conversion everywhere you go. Battery Converters are available in either HDMI to SDI or SDI to HDMI models, and support a huge range of video formats up to 1080p60 HD. Each converter automatically switches between SD, HD and 3 Gb/s SDI standards and supports embedded SDI and HDMI audio. Battery Converters also feature a super tough design that's perfect for outside broadcast and live events!

Protected Recessed Connections
Battery Converters give you the freedom to work in remote locations, on outdoor sets or at live events and still get the highest quality SDI conversion. Extending HDMI cable lengths during live production is easy as you can add a Battery Converter HDMI to SDI and use long SDI cables for your cameras. Use TVs as monitors on location with a conveniently hidden Battery Converter SDI to HDMI for amazing full HD resolution monitoring! The internal battery means your video is always protected from power outages or disconnections!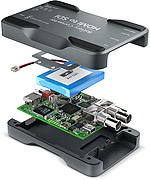 Built-in Battery Power
The built-in lithium-ion polymer battery provides more than two hours of charge and, when you need to, you can power or recharge the unit easily from any 12V source. An LED indicates the battery charge level. The battery can be recharged while the converter is in use, so you can work continuously when connected to a power source. You get a DC power supply that includes adapters for international power sockets.


Latest SDI Technology
Battery Converters feature the latest 3 Gb/s SDI technology with low jitter so you can use long SDI cable lengths and maintain perfect video quality. Automatic detection of SD/HD video formats means you don't have to waste time reconfiguring your converter, even if you change the input signal. Both Battery Converter models support embedded SDI and HDMI audio so you get perfect digital video and digital audio quality.

Super Tough Design
The compact design fits into the palm of your hand, yet is strong enough to be run over by a truck and keep working! Each Battery Converter is machined from aircraft grade aluminum and, like Mini Converter Heavy Duty models, features scratch resistant laser etched labeling and non slip rubber feet. Battery Converters pack an enormous number of features and the highest 3 Gb/s SDI technology into a tiny design that fits easily into any camera bag!