DPA d:dicate™ 4017E Shotgun Microphone, Active Cable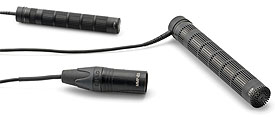 Product Code: 4017E

• Sleek shotgun for distant miking
• Short and lightweight
• Integrated active cable
• Highly directional

With our most tiny pre-amp design, the 4017E features an integrated cable solution with either side (4017ES) or rear (4017ER) cable entry. Being the shortest professional interference tube shotgun mic available today, the 4017E will with its only 12,5 cm length and 30 g capsule weight (121 g in total with 3 m cable and connector) be able to boom actors or capture distant voice dialogue for broadcast and video situations.

The SM4000 suspension mount is included in the package, allowing the 4017E to be hung from the ceiling and create precision spot miking of orchestra sections or ambience atmosphere.

At any time and with no tools necessary it is possible to transform the basic 4017E microphone into a new configuration by combining it with another DPA microphone capsule or preamp.
| Directional pattern: | Supercardioid, lobe-shaped |
| --- | --- |
| Principle of operation: | Pressure gradient, with interference tube |
| Cartridge Type: | Pre-polarized condenser |
| Frequency range: | 20 Hz to 20 kHz |
| Frequency range, ± 2 dB: | 40 Hz - 18 kHz with typ. 3 dB soft boost at 15 kHz |
| Sensitivity, nominal, ± 2 dB at 1 kHz: | 19 mV/Pa; -34.4 dB re. 1 V/Pa |
| Equivalent noise level, A-weighted: | Typ. 13 dB(A) re. 20 µPa (max. 15 dB(A)) |
| Equivalent noise level, ITU-R BS.468-4: | Typ. 24 dB (max. 26 dB) |
| S/N ratio (A-weighted), re. 1 kHz at 1 Pa (94 dB SPL): | Typ. 81 dB(A) |
| Total Harmonic Distortion (THD) at 1 kHz: | < 1 % up to 137 dB SPL peak |
| Dynamic range: | Typ. 124 dB |
| Max. SPL, peak before clipping: | 138 dB |
| Output impedance: | 100 ohm |
| Minimum load impedance: | 2 kΩ |
| Cable drive capability: | 100 m (328 ft) |
| Output balance principle: | Impedance balancing |
| Common Mode Rejection Ratio (CMRR): | > 40 dB |
| Power supply (for full specifications): | 48 V Phantom power (± 4 V) |
| Current consumption: | 3.5 mA |
| Color: | Matte black |
| Weight: | 121 g (4.3 oz) |
| Diameter: | 19 mm (0.75 in) |
| Capsule diameter: | 19 mm (0.75 in) |
| Output voltage, RMS: | 2.2 V |
| Microphone Length: | 125 mm (4.9 in) |
| Polarity: | +V at Pin 2 for positive sound pressure |
| Connector: | XLR-3M. Pin 1: shield, Pin 2: signal + phase, Pin 3: - phase |
| Relative Humidity (RH): | Up to 90% |
| Temperature range: | -40 °C to 45 °C (-40 °F to 113 °F) |