High Image Quality
• High-resolution 8.0-megapixel CMOS sensor (APS-C size) with 8 million effective pixels.

• 2nd generation CMOS sensor with an ISO speed range of 100 -1600. Features noise reduction technology which more effectively minimises unwanted noise for visibly clearer images
• Powered by advanced DIGIC II Imaging Processor.
•Fitted with a high quality optical low-pass filter used in Canon's higher range of digital SLRs for minimising false colours.
•Uses the popular E-TTL II autoflash system that accurately assesses ambient lighting to produce the optimal amount of flash lighting for natural looking pictures every time.
Superior Performance With DIGIC II Imaging Processor
• DIGIC II imaging processor produces images with true to life colour reproduction and razor sharp clarity that are more pleasing to the eye.•DIGIC II features greatly accelerated processing speed for fast and highly responsive camera reaction.
•Continuous shooting of about 3 frames per second for up to a maximum burst of 14JPEG compression type (5 RAW compression type) images.
•Camera start-up time is a mere 0.2 sec – means you will never miss another great photo opportunity.
•Fast shutter speed of up to 1/4000 sec. Shutter release lag time is a mere 100 msec.
•Viewfinder blackout time reduced to 100 msec.
Lightweight & Compact Yet Robust
• With a bold compact design, the EOS 350D is a stylish piece of photography equipment modeled around the classic SLR look.
• Available in two colours: silver and black.
• Circuitry is more efficient and uses less power, allowing battery pack to be sized smaller without any compromise on performance.
• The result: one of the lightest and most compact digital SLRs, that you will want to bring everywhere with you.
Sharply Focused Pictures Every Time
• 7-point auto-focus (AF) with a wide field of view ensures that your subject is in focus regardless of its placement within the viewfinder.
•An intelligent predictive focus AF ensures that moving subjects like kids or athletes are constantly in sharp focus.
• AI servo AF tracks a moving subject, keeping it constantly in focus – most suitable for sports photography.
• Switch to manual focus with the touch of a button.

Different Shooting Modes For Greater Versatility
• 5 modes in the Creative Zone – Program AE, Shutter-speed priority AE, Aperture-priority AE, Manual and Depth-of-field AE – allow serious photographers to select their preferred camera settings for different effects.
• 7 modes in the Preset Zone – Auto, Portrait, Landscape, Close-up, Sports, Night Portrait and Flash Off – save time by automatically selecting the best camera settings for the selected type of image composition.
• ISO range is selectable from 100-1600 for shooting under various ambient lighting conditions.
• Simultaneous RAW compression type and JPEG compression type image processing.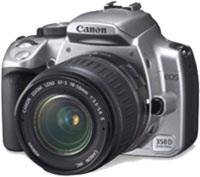 Optional Accessories
Shoulder Mount Adapter for DSLR Camera
MB400FULLKIT
Less than USD 3000
*Note:Power Converter Set is not inclusive within MB400FULLKIT
View Details

BeachTek MultiMount5D
Camera/Camcorder Accessory Bracket
View Details