---
7% Goods Service Tax (GST) will be imposed over the total invoice value if purchased locally in Singapore. However if you are a tourist visiting Singapore, this GST amount can be refunded at the Changi International Airport Departure Hall / Seletar Airport Passenger Terminal / Marina Bay Cruise Centre Singapore/ International Passenger Terminal at Harbourfront Centre GST Refund Centre before departure with goods within 30 Days from the date of purchase. Please note that only Tourists who have met the Tourist Refund Scheme's conditions and eligibility criteria can claim for the GST refund. Please visit: https://www.iras.gov.sg/IRASHome/GST/Consumers/Tourist-Refund-Scheme/ for GST Guide for Visitors on Tourist Refund Scheme.
Newtek TriCaster 850 TW Single-Channel Playback Control to your Live Production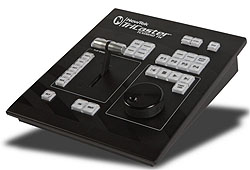 Product Code: TRICASTER850TW

Add dedicated, single-channel playback control to your live production workflow with TriCaster 850 TW. Share the workload with a second operator, focused exclusively on playing back stored clips and graphics. Slow down or speed up playback of the dedicated channel, and with jog-wheel and transport controls, you can forward, reverse, and replay any clip with a touch.
• Intuitive layout for manual control of TriCaster media players
• Dedicated operation for instant replay and slow motion playback of a selected DDR
• Illuminated buttons for heightened visibility of control surface activity under any environmental lighting conditions
• Premium T-Bar and jog wheel for precision control of clip creation and playback
• Durable, ergonomic design for confident, comfortable performance
• Compatible with TriCaster 8000, TriCaster 860, TriCaster 460, TriCaster 410, TriCaster Mini and TriCaster 40