---
7% Goods Service Tax (GST) will be imposed over the total invoice value if purchased locally in Singapore. However if you are a tourist visiting Singapore, this GST amount can be refunded at the Changi International Airport Departure Hall / Seletar Airport Passenger Terminal / Marina Bay Cruise Centre Singapore/ International Passenger Terminal at Harbourfront Centre GST Refund Centre before departure with goods within 30 Days from the date of purchase. Please note that only Tourists who have met the Tourist Refund Scheme's conditions and eligibility criteria can claim for the GST refund. Please visit: https://www.iras.gov.sg/IRASHome/GST/Consumers/Tourist-Refund-Scheme/ for GST Guide for Visitors on Tourist Refund Scheme.
Newtek TriCaster 40 Multi-Camera, Live Video Studio for any Desktop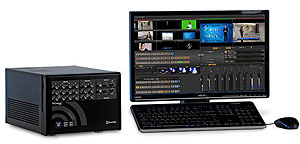 Product Code: TRICASTER40

Fast Setup. Easy to Use.
Just plug in, power on, and you're up and running with your very own show in no time.

All-in-one Live Production.
Mix cameras, video, graphics, audio, titles, network sources and now, even custom animated effects. No other hardware required.

On-budget HD.
The same formats used in broadcast television, with video connections that let you use HD cameras in your price range.

Travel-size.
Whether across campus or across town, the portable TriCaster fits anywhere you have a tabletop or A/V cart.

Web-ready.
Choppy, grainy online video is a thing of the past. Go HD directly to the Web with one-button live streaming.

Television-style Sets and Backgrounds.
Turn even the tiniest production space into a lifelike virtual studio with real-time moving backgrounds.

Creative Tools.
Transitions. Animated effects. Full-screen graphics. Titles. Picture-in-picture. Customize your show with network-quality design.
Switcher Channels
14 - 6 external, 4 internal, 4 virtual inputs
Video Input
4 simultaneous live video sources, in any combination of HD Component, SD Component, Y/C or Composite and supported resolutions
• Each input includes integrated frame synchronizer
• Independent keying, cropping, Proc Amp and white balance controls per input
• BNC connectivity
Network Sources
2 simultaneous live sources via Gigabit connection, selectable from any available network sources
• Supported sources include networked computers via included NewTek iVGA client application; wireless Apple® AirPlay® devices; NewTek TriCaster and 3Play systems with A/V network output; TalkShow; LiveText; and a variety of third-party partner solutions
Media
3 integrated digital media sources for video and graphics (DDR and 2 GFX)
• LiveText character generator for custom titles and graphics
Virtual Inputs
4 independent, mix/effect-style channels supporting multi-source compositions, virtual sets, double-box effects and more
• 3 configurable sources per channel, each with independent positioning, scaling and cropping, including upstream keyer with DVE and transition controls
Downstream Key
2 downstream keyers, each with independent DVE, transition controls, positioning and scaling
Effects and Transitions
Integrated TransWarp effects engine on all effects channels supports standard transitions, customizable animation store transitions with audio, and overlay effects
• Animation Store Creator for custom animations
• Supports per-pixel alpha blending between sources and real-time 3D warping of video or graphics
Virtual Sets
24 HD live virtual sets, with multiple camera angles, real-time reflections, specular highlights, animated zoom and presets
Video Output
A/V output signal through up to 5 output connections
• 2 x Analog (BNC; configurable for Component or Y/C + Composite; PGM and SD-only AUX)
• Network output for live streaming
Recording
Native recording in resolutions up to 1080p
• Record source selectable from among Program, Aux, or any individual camera input
• Encoding format selectable from among QuickTime®, MPEG-2 (high or normal profile), AVI (Speed HQ), and H.264 (high or Web-quality)
Recording Capacity
Accommodates ~ 20 hours 1080i or ~ 120 hours 480i via internal drive in QuickTime format
• Capacity expandable using external media drives
Live Streaming
HD live streaming via Adobe® Flash® or Microsoft® Windows Media® Push/Pull
Audio Inputs
1 x 1/4" (mono; mic)
2 x RCA (stereo L/R; line)
Audio Outputs
2 x RCA (stereo L/R; line)
1 x 1/4" (stereo; phones)
Audio Mixing
Integrated multi-channel audio mixer for internal and external audio sources, effects, output, stream and headphones
Supported Formats
NTSC model: 1080/30p, 1080/24p, 1080/60i, 720/60p, 720/30p, 720/24p, 480i (16:9 or 4:3) Multi-Standard model also includes equivalent NTSC-J and PAL selections
Playback Media Formats
AVI, DV, DVCPro, DVCProHD, FLV, F4V, H.263, H.264, MOV, MKV, MJPEG, MPEG (1, 2, all profiles, program or transport streams), MP4, WMV, WebM, PSD, PNG, TGA, BMP, JPEG, EXR, RAW, TIF, AIFF, MP3, WAV, and more, with Import Media application for batch import with optional transcoding of files (including Apple ProRes)
Export Media Formats
Export media application for batch copying with optional transcoding of files to compatible formats for different applications and devices: AVI, DV, DVCPro, DVD, H.264, MOV, MPEG-2, MJPEG, MP4, WebM and more
• Presets for Non-Linear Editors: Adobe Premiere®, Apple® Final Cut Pro®, and more
• Presets for mobile platforms: Android®, iPad®, iPhone®, iPod Touch® and more
Monitoring
DVI and HDMI monitor outputs for user interface and multiview preview, with selectable layouts
Signal Monitoring
Integrated Waveform and Vectorscope, full field rate with color preview and support for ITU-R Rec. 601 and 709
Processing
Video: 4:4:4:4, 32-bit Floating Point
Audio: 2 channels, 96 kHz, 32-bit Floating Point
System Physical
10.4 x 8.5 x 17.5 in (26.4 x 21.6 x 44.5 cm)
19 lbs (8.6 kg)