Phantom 3 Advanced Overview:
Easy to Fly
Your Phantom 3 fits into your life and makes flying remarkably intuitive and easy. From takeoff to landing, it's completely under your control, responding to your commands while automatically handling the most complex aspects of safe, stable flight.

GPS-Assisted Hover
Never lose track of your Phantom 3. GPS and GLONASS combine to make the Phantom 3 completely aware of its location and relation to you. It hovers more precisely, moves more accurately, and locks onto satellites faster. With the new availability of GLONASS, a minimum of 36 satellites are available to you around the world at any time.
Through the DJI GO app, you can track its location on a live map, and record your takeoff point so you
can bring it back to you with the tap of a finger.

Vision Positioning System
Your Phantom 3 literally helps you fly. It processes information from every sensor and completes complex
calculations in real time, giving you a worry-free flight experience that:

Automatic Flight Logs
Your Phantom 3 automatically logs and remembers the details of every flight you take. Complete flight route, flight time, flight distance, flight location, and cached versions of any photos and videos you took during your flight are at your fingertips for future reference. At the same time, an advanced flight recorder constantly records data from all of your Phantom 3's internal mechanisms, which can be easily shared with the DJI support team if you ever have any questions or issues.

Intelligent Battery
Higher voltage, more energy, and greater power combine to give you a vastly improved flight experience. This upgraded Intelligent Flight Battery has built-in sensors and bright LEDs that let you know the status and remaining power of your battery in real time. Your Phantom 3 continuously calculates its current distance from you and the amount of power needed to return, so you always know how long you can continue flying and when it is time to recharge.

Unmatched Propulsion
Each motor has the power and precision needed to give you the best flight experience possible. Brushless motors work with lightning-fast ESCs to make your Phantom 3 fast, agile, and responsive.
These powerful motors give you the ability to speed up, quickly increase or decrease altitude, and stop immediately. DJI's powerful air braking mechanisms stop your Phantom 3 instantly , making it hover in place as soon as you release the control sticks. Aerodynamic self-tightening propellers boost thrust and stay firmly in place no matter how you fly.

Main Controller
Processing and analyzing flight data in real time takes serious power. The Main Controller is the control center of your Phantom 3. It collects data from the entire system, including motor speed, GPS location, your command inputs, and data from automatic sensors, and analyzes it all to tell your Phantom 3 exactly how to behave at any given moment.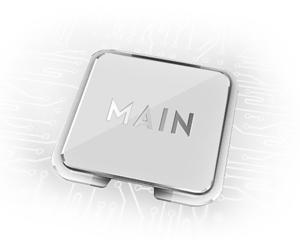 Epic Aerial Video
Show off a new view of your world in unprecedented clarity and style. Your Phantom 3 Advanced has a fully integrated camera that shoots 2.7

Professional Lens
The f/2.8 lens has a 94⁰ field of view, virtually eliminating unwanted distortion that may occur when shooting wide aerial views with other cameras.
Stable Footage
Securing and stabilizing your camera in place is DJI's trusted aerial stabilization technology. This 3-axis gimbal keeps your camera perfectly level in any flight conditions, resulting in beautiful, stable footage throughout every flight.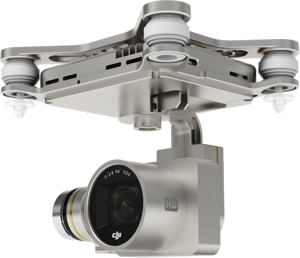 Unique Mobile App
Snap photos and record videos with just a tap thanks to a mobile app that turns your device into a camera controller, flight cockpit, and more. The DJI GO app makes you feel as though the camera is right in your hands, allowing you to see a live view, control the shutter, change settings, and access a wealth of unmissable features:

- Automatic video editor that helps you create a new movie in seconds
- User-friendly interface for controlling the camera and flight settings
- Live map and radar that tracks your Phantom 3 Standard as it flies
- Full flight telemetry including current speed, altitude, and distance
- Flight logs to record and remember your best moments

More Flying, More Fun
Fly for up to 25 minutes on a single charge. The patented DJI Intelligent Flight Battery continuously tells you exactly how long you can continue flying, based on how far and at what altitude you are, and it alerts you when it's time to head back. This information is streamed live to the GO app on your mobile device.

Recharging is quick and easy, and bright LED indicators tell you current status and power level. A protective plastic housing helps prevent damage and contains intelligent sensors that make your battery worry-free while extending the life of your battery.